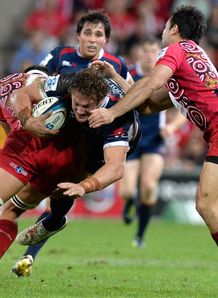 Related links
Teams
The Rebels have confirmed that Scott Higginbotham, Hugh Pyle and Jarrod Saffy will all be on the sidelines indefinitely, with the full extent of Higginbotham and Pyle's injuries yet to be determined.
Higginbotham will remain in Brisbane on Sunday, travelling to Sydney on Monday to have initial scans on his injured shoulder, where he will be assessed by Wallaby medical staff as they assemble for the upcoming British and Irish Lions Tour.
Pyle will have scans in Melbourne on Sunday and will be reviewed by a shoulder specialist early next week to determine if further action will be required.
It is a bitter blow for Pyle, who along with Higginbotham has been one of the standout forwards for the Rebels this season.
Saffy has suffered a medial ligament strain. Saffy suffered the injury in the 53rd minute of the Rebels' loss to the Reds and continued through to full time, as the Rebels had no reserve forwards.
At this stage, the Rebels are optimistic Saffy will only miss Friday's match against the Brumbies in Canberra, and will be available for the Rebels' match against the British and Irish Lions at AAMI Park on June 25.