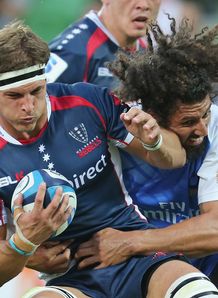 Related links
Teams
Luke Jones and Tom English, two of the Rebels best young players, have committed their futures to the franchise.
The 22-year-old Jones, a former Australian Schoolboy captain, has been with the Rebels since their debut season in 2010.
The lock was linked with a move to the Waratahs but has instead decided to remain in Melbourne.
"Staying a Rebel is very important to me," he told the Herald Sun.
"It means an opportunity to stay within a tight knit group of enthusiastic and aspirational young players.
"I believe we as a club are moving in the right direction. This is evident through the amount of players who are also committing long term like Tom, Paul Alo-Emile and Higgers (Scott Higginbotham).
"To be coached by Matt Cockbain who is a very similar player to what I am, has given me the confidence to grow as a lock/back-rower. I still have a lot to learn and having Matt coach me has lifted my game, there is no doubt about it.
"It has been a huge week for me personally and to get the start against a franchise (NSW) I grew up following is the perfect way to repay the faith Hilly and the coaching staff have shown in me this season."
English was contracted to the Rebels as part of their EPS squad, but the 22-year-old centre has been rewarded for some impressive form with a full three-year-deal.
"It has been a turbulent path, and I owe a great deal of gratitude to those who recruited me, the coaches and to the high performance staff who have invested a lot of their time and expertise to get me to this point," explained English.
"It was awesome to win last week and to sign with the Rebels shortly after. To now face the Waratahs as a former New South Welshman really makes it feel like someone has written a script for this Friday night.
"We have had a rough trot, getting so close in so many matches and our character was questioned. But we stayed tight.
"We are working so hard at the moment, and there's no reason why we shouldn't continue to have success in our next three local derbies for 2013 and against the British and Irish Lions."