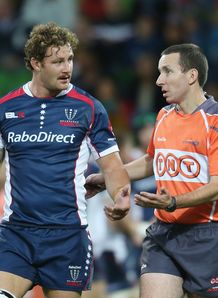 Related links
Teams
Rebels back-rower Scott Higginbotham has signed a new deal which keeps him at the Melbourne-based franchise until the end of 2015.
Higginbotham exercised his right to remain at the Rebels for 2014, as well committing to a further year with the franchise and the Wallabies.
The new deal with the Australian Rugby Union and the Rebels takes Higginbotham through to the end of the 2015 Rugby World Cup, and he acknowledged that attending the tournament and the enormous potential of rugby in Melbourne was a contributing factor.
"I'd like another crack at a Rugby World Cup without doubt," he said.
"Every player has ambitions to represent their country on the world stage, and I want to represent this club and Melbourne during it.
"Melbourne's great. The city has a relaxed feeling to it, the club has been fantastic and, while I never anticipated being captain; the chance to lead the team has been something I have enjoyed.
"There are a number of us committing to the club in recent times, which shows a great deal of faith in where we are headed.
"Although a lot of hard work is ahead of us, we know that there are some very special things happening in rugby union in Victoria."
The 26-year-old has appeared in every match for the Rebels in 2013, finding himself in the unfamiliar role as captain in the absence of Gareth Delve.
The durability of Higginbotham is also exemplified by his international prowess, featuring in 12 of the 15 Tests played by the Wallabies last year, which saw him finish as the country's premier blindside flank.
Although there have been many great memories at such a young age for Higginbotham, there was to be no talk of any temptation or lure off shore.
"There is always a temptation to look overseas, but I want success with the Wallabies and the Rebels first and foremost," he added.
"The pride in the jersey I wear, both state and international is very important to me.
"I have been a part of a successful Super Rugby campaign and I know the hard work which is required. This Rebels club, I firmly believe will experience great successes very soon, we are close."