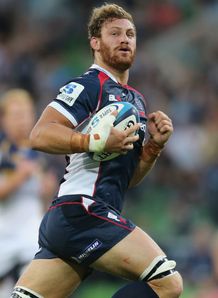 Related links
Teams
Melbourne Rebels captain Scott Higginbotham believes a lack of competition between club rugby and Super Rugby has hurt his side.
The Rebels were sunk by a last-minute drop goal by Kings fly-half Demetri Catrakilis in a thrilling finish in Melbourne, but Higginbotham believes his young side's lack of experience cost the Rebels a win.
Comparing Australia's lack of competition beneath Super Rugby to the Currie Cup in South Africa and ITM Cup in New Zealand, Higginbotham stated that his side are having to learn the hard way.
"I just think it's experience," said Higginbotham to The Age.
"We're a young team. This is a very good level of football and this is the first year for a lot of blokes and it is a big step up from club football in Australia to playing Super Rugby.
"The South African blokes have got Currie Cup, the Kiwis have got ITM (Cup), they've got those levels to step up and build experience and we don't.
"That's one thing that's hurting us, experience in players. But we'll get that and that's coming. We've had a lot of close losses in a lot of games where we're playing great football and we'll turn (it) around.
"We should have won and you can see it on the boys' faces how disappointed they are. That's a good thing.
"We're still a young team, a lot of young blokes, a lot in their first year in Super Rugby and they're starting to show a lot of pride and a lot of passion in the jersey and that's uplifting and that's a positive to take out of this."