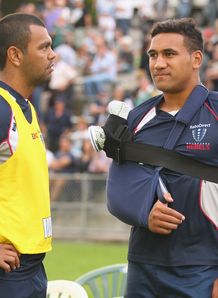 Related links
Teams
Also see
The Melbourne Rebels have confirmed they are investigating an incident between two of their players following Saturday's loss to the Sharks in Durban.
Cooper Vuna and Kurtley Beale are alleged to have come to blows in the wake of the crushing 64-7 loss on their first game in South Africa.
Vuna claimed on his Twitter account Beale had punched him with a "cheap shot" while intervening in a dispute, which occurred after the team had arrived back at their hotel.
The series of tweets from Vuna were later taken down.
"I need to leave right now, this ain't for me! I tried to help someone but got punched so instead of putting him in hospital il leave!" Vuna posted.
When a Twitter user asked Vuna if his alleged assailant "was drunk", he replied: "Hmmmmm his name is @kurtley_beale bloody grub!"
Beale did not play at Kings Parks after undergoing surgery on a broken hand last week and is in Durban as a non-playing tourist while the game was Vuna's first match this season after shoulder injury.
"The Melbourne Rebels would like to respond to reports of an incident between players following the team's bus trip home to their hotel in Umhlanga," read a Rebels statement on Sunday.
"The club is treating this matter as serious and a full internal investigation has begun with the players involved.
"Therefore, the club cannot provide any further comment until the internal investigation is completed.
"No other parties were involved."
Beale is facing assault allegations arising from an incident at a Brisbane night spot last year, in which he was alleged to have hit a bouncer.
At the post-match press conference Rebels coach Damien Hill questioned his players' pride in their jersey following their humiliating defeat which included 31 missed tackles.
"Our guys just didn't show up and it's quite embarrassing to be honest," said Hill. "It's probably the worst defeat I've ever been associated with through the club and I'm really questioning the pride these guys have in the jersey.
"Even though it's a new team, you've got to be prepared to leave blood on the field when you're playing a team like the Sharks and our guys didn't."