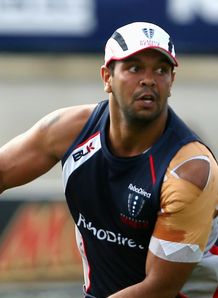 Related links
Teams
Also see
Wallabies playmaker Kurtley Beale is planning on playing a large part of the season with a troublesome left shoulder injury that requires surgery.
The Melbourne Rebels fly-half sustained the injury against England at Twickenham in November and he popped the shoulder out and back in during last week's 30-13 Super Rugby loss to the Brumbies.
Although he has been cleared to face the Waratahs in Sydney on Friday, Beale admits that the injury is painful and is expecting his former team-mates to target him.
"I can still play with it. There is a little bit of pain to cope with. I did that last week. It was a bit too much I think," Beale told AAP
"Later on in the year, it will definitely require surgery.
"I'll worry about that more later in the year. I've got some footy games ahead of me if the shoulder pulls up fine after each week.
"Obviously, the Lions Tour is a big target."
"I know the NSW pack will be targeting me in some areas," he added.
"That's what happened last weekend and it's probably why the injury happened.
"We've got a plan in place. At times, I might drop out the back and might help the counter out a bit."
Full-back James O'Connor, who will captain the Rebels for the first time with in the absence of the injured Gareth Delve, said he believed the injury would not hamper Beale.
"Talking to him, he feels good and if Kurtley couldn't give his best for the team, he wouldn't be out there," said O'Connor.