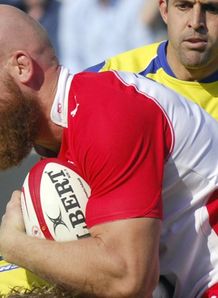 Biarritz have named a strong starting line-up for their trip to Aironi as they look to strengthen their footing at the summit of Pool Four on Saturday.
Imanol Harinordoquy leads the Basques from the back row while Dimitri Yachvili will marshal the attack from scrum-half.
Former England international Iain Balshaw starts on the left wing while former France and Stade Français prop Sylvain Marconnet features on the bench with Danmien Traille.
BO, who have been in rich vein of form in domestic competition, will be looking for a bonus point against an Aironi side that has yet to taste victory in any competition.
The teams:
Aironi: 15 Julien Laharrague, 14 Giiulio Toniolatti , 13 Rodd Penney, 12 Gilberto Pavan, 11 Matteo Pratichetti, 10 James Marshall, 9 Tito Tebaldi, 8 Nick Williams, 7 Gareth Krause, 6 Josh Sole, 5 Quintin Geldenhuys, 4 Marco Bortolami, 3 Fabio Staibano, 2 Fabio Ongaro, 1 Matias Aguero,
Replacements: 16 Luigi Ferraro, 17 Alberto de Marchi, 18 Luca Redolfini, 19 Joshua Furno, 20 Simone Favaro, 21 Pablo Canavosio, 22 Riccardo Bocchino, 23 Giulio Rubini,
Biarritz: 15 Dane Haylett-Petty, 14 Takudzwa Ngwenya, 13 Charles Gimenez, 12 Michael Bond, 11 Iain Balshaw , 10 Julien Peyrelongue, 9 Dimitri Yachvili, 8 Imanol Harinordoquy (captain), 7 Raphael Lakafia, 6 Magnus Lund, 5 Erik Lund, 4 Jérôme Thion. 3 Campbell Johnstone, 2 Benoît August, 1 Eduard Coetzee.
Replacements: 16 Romain Terrain, 17 Sylvain Marconnet, 18 Alexandre Barozzi, 19 Manuel Carizza, 20 Benoît Guyot, 21 Damien Traille, 22 Arnaud Mignardi, 23 Ilikena Bolakoro
Date: Saturday, December 11
Kick-off: 14:30 (13:00 GMT)
Venue: Stadio Luigi Zaffanella
Referee: Peter Fitzgibbon (Ireland)
Assistant referees: Alan Rogan (Ireland), Mark Hermin (Ireland)
Television match official: Sean Flannery (Ireland)