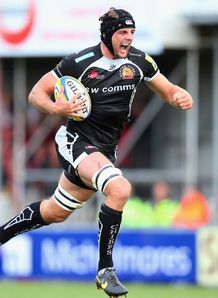 Related links
Teams
Exeter lock Dean Mumm is craving a big finish to their season after having missed out on qualification for next term's European Champions Cup.
Last week's loss to Harlequins meant Wasps would be assured the all-important seventh spot in the table with just one game left in 2013/14.
On Saturday they face Newcastle and for Mumm this allows them to take out their frustrations on the Falcons as they seek a double against them.
"It was disappointing to lose, especially as we had the lead all game and then dropped it with three or four minutes to go," he said on Sunday.
"There have been a few games like that but the positives are that when we're right mentally we are not far away from the top teams. Saracens at home, Harlequins at home - they're the teams that look like they'll be playing in the semi-finals and that's where we want to be. When we're on mentally we can match them.
"There's one game to go and we want to carry that mental aspect and intensity through. You want to finish with a little bit of a flourish in how you play. Newcastle will be fighting hard for it but there's an opportunity to finish with a win so we'll be right up for that game."