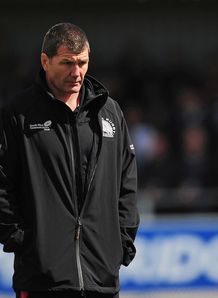 Related links
Teams
Exeter head coach Rob Baxter says he will have to "dig deep" to ascertain just why his team were comprehensively beaten 55-12 by Sale.
The Chiefs suffered a record top flight loss as the visiting Sharks ran in eight tries at Sandy Park to ensure themselves of a place in next season's new-look Rugby Champions Cup.
Understandably Baxter could not hide his disappointment at the final whistle, describing the whole day as a "humbling experience" for everyone associated with the club.
"We let our supporters down today and I would like to apologise to each and every one of them, because I thought we were poor," said Baxter.
"It is not what they pay to expect, and it is certainly not how I want the team to be, and not how I expect we should be rewarding the supporters we have got, because we have got some fantastic supporters, and I don't feel we have done them proud at all today.
"I am not going to stand here and say I know all the answers, and ultimately a lot of that's got to come down to me really, because how the team goes onto the pitch and the motivation they have is largely a big part of my job, and that is probably what I am most disappointed and frustrated about.
"I've just said to the guys - and I include all the coaching staff in that as well - something wasn't right today and I have to dig deep to find out what it is and look to put it right for the Harlequins game."
With skipper Dean Mumm ruled out just prior to kick off with a shoulder injury, Baxter's options in the back five of the scrum were again hampered against a well-drilled Sale pack.
"The truth is the back five of the scrum has taken a hammering all season really, and particularly recently," added Baxter.
"Today we were missing Dean (Mumm), Tom (Johnson), Romana (Graham), James (Hanks), and Don (Armand), and it has meant we haven't been able to train with two packs of forwards. But that really is making excuses, because whatever 15 you put on the pitch, you still expect a bit of fight and do or die stuff.
"We had it at times and with individuals, but collectively we just weren't where we needed to be to win the game today."