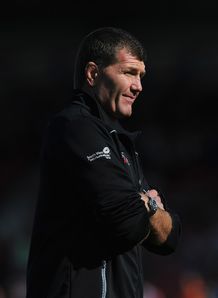 Related links
Teams
Exeter Chiefs director of rugby Rob Baxter wasn't sure how to react after his team squeezed past Worcester on Saturday.
The visitors scored five tries at Sixways but conceded 33 points, pushed to the wire by the Warriors who are on the brink of relegation.
While understandably pleased to pick up the win, Baxter admitted that he didn't know what to say to his squad after eeking out another tight win away at Worcester.
"Winning any Premiership game, especially away from home, is fantastic - but for the actual performance...," said Baxter.
"I didn't know quite what to say to the guys (at the end) but pretty much every game we come up here to play against these has a similar ending in that it is a tight one.
"I am disappointed it ended up as tight as it was because, at times, some of our attacking play was fantastic. We were right back up there with finding space, speed of ball and speed of movement that we have had in the Premiership.
"But we coupled that with too much individual ill-discipline. It was not really a group thing but individuals keeping hands in rucks and a couple of high tackles. It swung the momentum away from us and shouldn't really have happened."
The five-point victory does however keep Exeter in the hunt for a spot in next season's European Rugby Champions Cup.
Exeter are currently in 7th place, with a playoff between the teams that finish 7th in the Premiership and Top 14 to take place at the end of the season for the final 20th spot in next year's tournament.
"It is going to be an exciting end to the season and Sale next week will be a massive game for us," added Baxter.
"Today's performance shows it is important to the players as well to be challenging for that European spot."