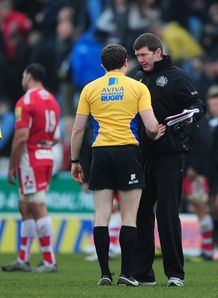 Related links
Teams
Exeter Chiefs boss Rob Baxter failed to understand how his team were not awarded a penalty try at the death in their loss to Gloucester.
A rolling maul from the home side ended with a try for Dom Armand to bring the Chiefs eventually within a point of the lead, but Baxter felt the score should have been a penalty try due to a number of infringements from Gloucester deep in their own 22.
Gloucester lost both Sila Puafisi and Sione Kalamafoni to the bin in a matter of minutes, hence Baxter's frustration.
That would have made the winning conversion far simpler for replacement fly-half Gareth Steenson, whose kick missed the posts.
"It was great endeavour from the guys at the end but I am a little perplexed about how you can have a driving maul flying over the line that collapses and it is a yellow card but not a penalty try, especially after a couple of penalties that led up to it," said Baxter.
Baxter refused to blame Steenson for his missed kick, as Exeter dropped down the table to 9th.
"It was tough for Gareth because he hadn't had any shots at goal at that point and there was a very tough wind," added Baxter.
"Gareth missing a kick is not a big issue for me - it's a bit more how we needed a conversion in the last seconds to win the game."
"I am not going to hide my disappointment because I don't think that we played particularly well. I said to the guys afterwards that if you want to win Premiership games you have to go out there and play really well.
"You have to make it about yourselves and you have to take all your opportunities with two hands. I thought at the start we were nervy because of the amount of times we gave poor passes or lacked crispness or dropped the ball or whatever.
"But as it wore on you can't really say it is about nerves because in the final period we kind of dominated possession and territory without really ramming home what we needed to.
"We have a break now and what we have to do now is re-ignite some of the intensity that we were playing with just a few weeks ago. This is just another of those one-point score games where we have been our own worse enemies."