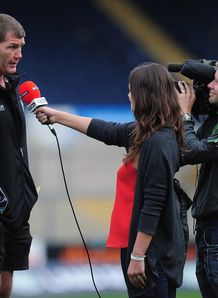 Related links
Teams
Exeter Chiefs boss Rob Baxter conceded his team were outclassed by a rampant Northampton Saints performance on Saturday.
Last season's Aviva Premiership finalists ran in four tries within the first 35 minutes, as Exeter were blown away before even getting into the match.
The Chiefs performance did improve after the interval, with new skipper Dean Mumm scoring a try, but the 38-11 loss was a major blow at the start of what has previously been predicted as a successful season for the Devon side.
"I thought we got taught a lesson in the first half," Baxter told the Exeter Chiefs website.
"I'm not going to take anything away from Northampton because they were very clinical side in that first half and a lot more clinical than we were at any stage in the game. They virtually took every opportunity that was out there on the pitch for them.
"Some of them they created themselves, but others we gifted them and it's frustrating to look at some of the tries we conceded and then see where they came from and the mistakes we made.
"Far too often we gave them easy releases and as good a team as Northampton are, what you have to do is put them under pressure and make a game of rugby difficult for them. There wasn't a lot we did in that first half that didn't make it difficult for them.
"I've just said to the players it almost felt like a pre-season game that we needed to get out of our system. In a way I am hoping that this that last pre-season blow out you need before you really crank up to the intensity you need to be at.
"There is no doubt we were better in the second half and that we held true to what we do and the way we want to play, but there is a reality that by then Northampton had got what they wanted.
"Yes, it was definitely a better performance in the second half, we controlled possession and territory a lot better, so that part I was pleased with as was the impact some of our bench players had on the game. But, as a whole, you have to wrap it up as a disappointing day which I hope has taught us a few lessons."