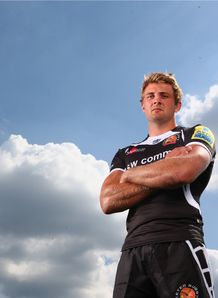 Related links
Teams
New Exeter Chiefs captain Dean Mumm has underlined the importance of picking up points early on ahead of the new season.
Exeter travel to Northampton this weekend in the opening round of the new Aviva Premiership campaign, looking to improve on their 6th placed finish at the end of 2012-2013.
Mumm, who has taken over the captaincy at the Chiefs from Irish lock Tommy Hayes, stressed the need for the club to perform with greater consistency throughout the new season if they want to make the playoffs.
The former Australian international also conceded that although the club has plenty of ambition, the immediate focus will be on the first group of matches in the league before reevaluating their expectations.
"It's particularly important to pick up some points early on in the competition just to ease the pressure on you as you go through," said Mumm to the Western Morning News.
"Exeter's been lucky in recent years. They've always had some pretty tough games in the early part but they've always managed to get points. Particularly away from home, any points you can get are very important.
"We're going up to Northampton to get the win and then we'll think about Wasps [the following weekend] after that.
"We're a club full of ambition. We're aiming for the top but we realise there's a lot of work to do from here before we get there.
"We've got to focus on that as we go along. A more consistent season, picking up points whenever we can, is probably the way to look at it then the results side will take care of itself.
"We've spoken a bit about targets but we've spoken a lot more about processes than the actual outcome of the season.
"We'll focus on Northampton, target the first four or five games, and then we can reassess from there."