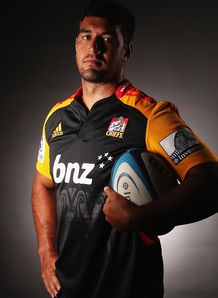 Related links
Teams
Exeter Chiefs have signed New Zealand Maori lock Romana Graham, their seventh pre-season signing.
Graham's move has been on the cards for some time but has only now been completed, with the second rower watching his new club in action on Saturday.
"I'm pretty excited to be here. It should be a good challenge ahead and one that I'm really looking forward to. I've been at Hamilton all my life playing rugby, so I thought it would be a good change to try something different and come over here," Graham told Exeter's official website of the move.
"I'll be honest I didn't know too much about Exeter or the club before I came over here, but every since we've sorted the move I've been looking on the computer at a few highlights and looking up things around the area and it all looks a pretty exciting place," he added.
"Right now, though, I just want to get myself up and running and involved with the team. Coming over here, as I said, is a whole new challenge for me, but I think it will be good for my game.
"Obviously I want to try and improve my game a lot more whilst I'm here, but at the same time I also want to help the club and the team all I can."
The 27-year-old arrives at Sandy Park from Waikato where he turned out for the Mooloo Men in the ITM Cup and for the Chiefs at Super Rugby level.
Graham concedes that the switch from southern hemisphere rugby to the Aviva Premiership will be an adjustment.
"The style of game over here is definitely a bit different to that of back home, but I'm looking forward to getting stuck into it all," he explained.
"I've watched some highlights of games and there are some big boys over here. It's more forward orientated for sure, but I'm not going to complain about that too much, I just want to get stuck into the action."