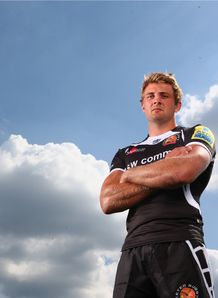 Related links
Teams
Australian Dean Mumm has been named captain of the Exeter Chiefs for the upcoming 2013/14 campaign.
After just one season at the club, the lock takes over the reins from Tom Hayes who led the Chiefs to promotion in 2010 and then for all three of their Aviva Premiership campaigns.
"They're big shoes to fill aren't they?" Mumm told Exeter's official website.
"Tom has quite a legacy here at the club because his time as captain has been one of real change and real success. I say full credit to him for what he's achieved and yes it is a big job to try and fill his shoes.
"That said, you can't really approach it that way, you have to put you own mark on things. Tom has done an excellent job for us; he's a real strong leader still within the squad and I suppose I'm lucky to be the guy that gets to run out first onto the field.
"If you look around the team there are so many guys capable of leading their respective areas, so if everybody looks after their own individual areas, it certainly makes it a whole lot easier for the person named as captain to look after what he has to look after.
"For me, though, I'm very honoured to have been given the captaincy and I'm very excited about the opportunity."
The former Wallaby is confident that the Chiefs will improve on the sixth place finish they recorded last season.
"One of the great things in rugby is that come pre-season you can always have that optimism and promise everything," explained the 29-year-old.
"Like Rob says, all we're really thinking about is focusing on improving as individuals and if we can all get a certain element better, the team will get better too.
"As a club we're very ambitious and we want to target the top four of the Premiership and qualify in the Heineken Cup. They are all goals for us, but we must focus on the little things first, before doing the big things."