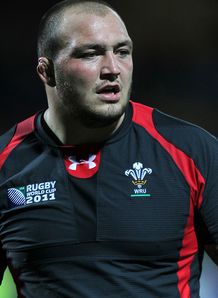 Related links
Teams
Also see
Exeter prop Craig Mitchell has been handed a two-year suspended prison sentence after being found guilty of assault.
The Welsh international was involved in a fight at a Brisbane hotel last Sunday following the Lionsfirst Test victory over Australia and during the course of the fracas Mitchell punched lawyer Cian Barry.
Magistrate Anne Thacker on Friday handed down a six-month prison sentence to Mitchell, suspended for two years, and fined him £1,180 over the attack and also ordered him to pay £1,966 in compensation to Barry.
"It has to deter other Australians from this sort of behaviour at football matches," Thacker said in handing down her judgement at the Brisbane Magistrates' Court.
Mitchell apologised to Barry at the hearing, saying that his actions were "totally unacceptable and unforgivable".
The 27-year-old's lawyer, John Cook, said that the ruling would not impact Mitchell's playing career and that his passport had been returned and that he was free to leave Australia.