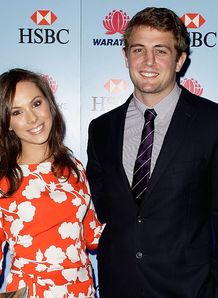 Related links
Teams
Dean Mumm has arrived at Exeter Chiefs and admits he cannot wait to get onto the playing field after joining from Super Rugby outfit the Waratahs.
The 28-year-old Australian international was one of eight signings made by Exeter head coach Rob Baxter as he looked to strengthen for 2012/13.
However, Mumm's arrival was delayed until this week as he still had rugby commitments to conclude back home. Crucially for the Exeter Chiefs, those commitments have now been done and dusted and the imposing forward is raring to kick-start his career in English rugby.
"I've had a quick look around town and the cathedral is certainly a bit bigger than any I've seen previously," he told the Chiefs website.
"Coming here today I kind of feel a bit like a deer in the headlights, but that will soon go and I'm really looking forward to getting started."
After eight seasons in Sydney with the Waratahs, the imposing forward says the time was right for him to seek a new challenge in his career - and the one offered by Baxter and the Chiefs is the perfect fit in his mind.
"I'm really excited to get here at last and meet [head coach] Rob Baxter and everyone. It has taken quite a while, and being here was more of an idea. Now it's reality," he said.
"It's like my first day at a new school, but sometimes you need a change. I really enjoyed my time with the Waratahs and playing Super Rugby, but I knew I was ready to try something else. The time had come to try something new and the Premiership is certainly one of the top competitions in the world.
"It's the intensity and physicality of the competition, week in, week out. It's a war of attrition, and you have to really work hard to earn your points. I'm looking forward to getting stuck in, and it's going to be a real challenge for me. That challenge is the reason I came here."
As well as the cut and thrust of the Aviva Premiership, Mumm will also be given his first taste of European rugby with the Chiefs playing in the prestigious Heineken Cup for the first time.
"What a challenge, and how exciting it's going to be," he said.
"Obviously, I've never done it, and it doesn't get any harder than Leinster away [the Chiefs' first European test in October], but it will be really exciting to be part of it."
Previously Mumm has been given a brief taste of English rugby by tackling the likes of Gloucester and Leicester Tigers during tours with Australia, but he knows facing some clubs on a weekly basis will be a much different proposition.
"I've played a handful of games and played in a few venues over here," he continued.
"What I remember was that it was very physical and that sides pride themselves on their set-piece, which is great.
"The other thing I remember is the passion in the crowds. Back home, Super Rugby is played in big stadiums and everything is quite far away from each other. Also it will be a bit different hoping on a bus and going to games, rather than taking flights everywhere.
"As I said, though, I'm just looking forward to getting stuck in and finding my feet. Right now I'm a bit green to everything, but that is what excites me the most. I had a great time with the Waratahs. Growing up as a kid in Sydney that was the team I wanted to play for, so to do that was a very proud moment for me.
"I got to play with some great blokes in some fantastic stadiums, but now it's right to approach something new. For me I wanted to get our any comfort zone I had in Sydney and coming here will do that and hopefully make me an even better player."