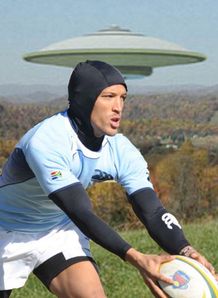 It's back! Fans of real rugby news are invited to test their knowledge in the latest edition of the Quiz from the Far Side.
It's that time again. Yes! Put away your bingo cards, pack up your game of monopoly, batten down the hatches, crouch, touch, pause and engage!
Are you wise in the ways of rugby? Send us your answers here!
1. Springbok sensation Gio Aplon is soooo fast because:
a) He has no ears = less drag
b) He is an extraterrestrial
c) He's not that fast (but Clement Poitrenaud is THAT slow)
d) His mother's secret chakalaka recipe provides a turbo-boost
2. The Wallaby front row has been nominated for:
a) The Lehman Brothers Award for the Year's Most Untimely Collapse
b) Origami Award for Folding
c) Italian shoe designers' award for buckling
d) Luis Suarez Award for giving away penalties in precarious positions
3. Sonny Bill Williams joined Canterbury because:
a) His contract includes a 10 per cent discount at Dan Carter underwear stores
b) Red brings out the colour on his cheeks
c) Hospital beds in Christchurch are the most comfy in New Zealand
d) Red and black are the same colours as Toulon
4. Japan coach John Kirwan's 'plan' for the 2010 World Cup includes:
a) Extensive exploration of Wellington's sushi bars
b) Keikaku?
c) Plan? What plan?
d) Intensive training sessions focusing on "How to tackle around the knees without losing your teeth"
5. Steve Borthwick was axed from the England team because:
a) He has ugly ears
b) He's old
c) He's not very good
d) All of the above
6. Luke Rooney backed out of his Worcester deal in favour of Melbourne because:
a) Worcester is too hard to spell
b) Melbourne source is quite good too
c) 'Rebel' sounds cooler than 'Warrior'
d) Wouldn't you?
7. How many South Africans have now joined Ulster?
a) A couple too many
b) Almost as many as Saracens
c) Almost as many as have left the Lions
d) Is Ulster ook in Frankryk?
8. France were pathetic in Argentina because:
a) They left their fighting spirit in Paris
b) They left their fighting spirit in the lavatory before kick-off
c) Their fighting spirit was beaten out of them in Cape Town
d) Their fighting spirit was already sipping a cocktails on the Cote d'Azur
9. What is the root cause of verbal jousting between SA and NZ?
a) Graham Henry's "Big Mouth"
b) Peter de Villiers' "upside down mouth"
c) PDV's foot in his own mouth
d) Lack of a moustache above Graham Henry's mouth
10. The next team to be thrown out of the Top 14 will be:
a) Bourgoin - not enough money
b) Toulon - too much money
c) Stade Franšais - too pink
d) Agen - too many Fijians