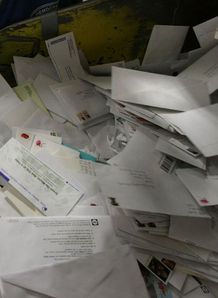 Tales of troublesome disciplinary officers, low-calorie diets and lucrative overseas contracts have filled the NFS mailbox once again.
Following a string of death threats, News from the Far Side Chief Editor and spiritual leader the Scarlet Badger has been forced to flee the NFS safe house in Argentina and is now residing at an undisclosed hide-out in Mozambique.
But never fear fans of real rugby news, fuelled by diet of cocktails, flame-grilled spicy chicken and cheap beer, world rugby's Agony Uncle has been hard at work answering the desperate pleas for help from grief-stricken souls from near and far.
Do you have a rugby-related dilemma? Send your Uncle Badger an e-mail.
________________________________________________________________________
Dear Mr. Badger,
I've got a bit of a sweet tooth, which isn't really a problem in itself, but it's landed me in some hot water. I got called to the 'headmaster's' office recently for some minor incident involving seating arrangements. As if Beelzebub himself could read my mind, what do I find waiting for me when I arrive in the foyer but a whole plate of choc-chip biscuit yummyness. I couldn't help myself, all that chocolaty goodness was too much to resist... so I dived in. Just my luck, I got called in to see the 'ol chief whip when I had a mouthful of double-creams and nothing to wash it down with. Of course as soon as he asked me to explain myself, out come a shower of projectile crumbs 'n spit, nailing the old fart dead in the eye. I really didn't mean it, but is was quite funny. He didn't feel the same way and now I'm not allowed to go watch any games for over three months! What do I do?
BV, London
The Badger says: Jee-wiz BV, those rural prep schools get stricter by the day. I can't really blame you, who ever heard of serving cookies without milk anyway? The problem with these disciplinary types is that they're not very forgiving. Has your mom/dad tried to send a letter to explain? Of course being a day-boy you're never going to get the same treatment as the boarders, so you'll have to watch your step in future.
________________________________________________________________________
Hey Scarleto,
I need top lose a couple of kilos. Weight never used to be a problem for me, if anything being one of the bigger hookers around rather helped. But then this young gun number two ( my team-mate no less) started leaping over rucks and running around like a centre so the coach decided I should move to prop. 'Fair enough,' I thought, so I tucked into as many pies and dumplings as I could to bulk up. I did't want to get shoved around. First I played tighthead, then I played loosehead and just when I was getting the hang of it, guess who gets injured? So, now I'm back to throwing in at the line-outs. But the 'Matt Dunning' look isn't doing it for me, my thighs look like a swallowed a small ice cream factory. Please help!
Johny, Durban.
The Badger says: I'm not sure what you're worried about Johno, as far as I can tell, so long as you're fit enough to lace up your boots, you won't get dropped. I mean, your scrum-half last weekend looked like he should be packing down in the front row next you. But if you really want to drop a few KGs, I suggest to steer clear of carbs for a while. If you're really desperate, I'll send you my recipe for my famous 'Hotter-than-a-mother-in-laws-wrath Curry.' It's guaranteed to make sure you'll be evacuating more than you ingest for a good while. Plus it'll burn so many holes in your gut you won't be about to absorb unsaturated fats for a month.
________________________________________________________________________
Dear sir,
I've got a bit of a selection headache. Every number twelve worth his salt at my disposal is crocked and the only option I've got as a replacement is gallivanting around on the Mediterranean playing 'Mr Super star.' There might have been one other option, but he also got Euro fever and signed his soul away. I'll been trying really hard to get Monsieur wunder-centre to sign a contract for months. I've even been sending flowers to his mother, but he insists on giving us the run-around. We've got a big tournament next year and need him ASAP. How do I get him on a plane home?
Henry, Auckland.
The Badger says: Hmm, tough one you've got there. I don't see any other solution than throwing ridiculous amounts of money at the guy. It's not like we're talking about a contact sport where he could get injured, he's sure to be your saviour. We all know that you only need one great player to make a great team. Good idea sending his mom the flowers, have you tried sending gift vouchers for the local shops to his girlfriend?
________________________________________________________________________
Dear Scarlet-One,
What do I need to do to get a restraining order? This coach back home just won't leave me alone. Every second day it's 'Bill this' and 'we'll pay you that', 'your country needs you', 'your tattoos are so cool'....etc etc. All I'm trying to do is enjoy my extended Mediterranean vacation and all this guy and his cronies can do is send me messages about how good I'd look in black. Even my mom wants me to come home now. But the place is cold and wet and boring in comparison....there aren't any topless beaches or anything.
William Sunshine, Toulon
The Badger says: Sounds like a no-good deal to me sonny. I reckon stay put - the longer you wait, the more money they'll offer you. And they better cough up a mountain-load if you're going to give up on all those topless French ladies. I find that changing your telephone number at regular intervals and giving them the run around via you agent is good fun. My mate Frans does it all the time. By the way, try this line on the locals, they'll love it : "J'ai une inflammation entre mes jambes" (It means 'show me your boobies'). Party on!