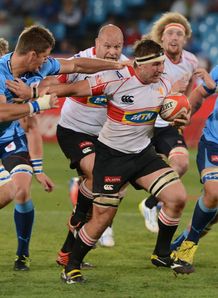 Related links
Also see
After six rounds of Currie Cup action, Western Province are still setting the pace at the top of the table and they are yet to lose in 2013.
Griquas get a chance to knock them off their perch when they take on the champions in Cape Town in Friday's only match. If the men from Kimberley succeed in their task, it will be the biggest upset of the season.
While Western Province are table-toppers, Griquas are struggling in last place and will have to play out of their skins to beat their hosts.
The weekend's action continues on Saturday where the Free State Cheetahs take on the Sharks in Durban and the Golden Lions host the Blue Bulls in Johannesburg.
Expect plenty of action in both those games as all these teams are battling to secure play-off positions. The Sharks and Cheetahs are currently in second and third positions respectively while the Lions are a point adrift of the Bloemfontein-based side in fourth place.
The Bulls are fifth and will be determined to beat the Lions, who overcame them by a huge margin in the corresponding match in Pretoria earlier this season.
Fixtures:
Friday, September 20
Western Province v Griquas
Saturday, September 21
Free State Cheetahs v Sharks
Golden Lions v Blue Bulls
Standings:
1. Western Province 20
2. Sharks 19
3. Cheetahs 16
4. Golden Lions 15
5. Blue Bulls 10
6. Griquas 9
---
Western Province v Griquas
Newlands Stadium, Cape Town
Griquas will have to deliver their best performance of the season if they want to beat the champions in their own backyard. The men from the Cape showed why they are the champions, and the tournament's pacesetters, when they beat the Blue Bulls in Pretoria despite playing most of that match with 14 men.
Although Griquas are rooted to the bottom of the table, WP coach Allister Coetze expects a tricky encounter - especially after they claimed a narrow 20-19 victory when they faced them in Kimberley earlier this season - and wants his players to continue where they left off against the Bulls.
"Last week we saw the Sharks just managed to scrape home by a point (25-24)," he said.
"Anyone who underestimates Griquas does so at their own peril.
"We are at Newlands, it is an evening game and it will be wet, so there are different challenges but we must still be accurate.
"For me personally, we must keep playing the way we are playing - with intent.
"Of late, when we ran with the ball, you could see that there was great punch and great pace. It's about what we do with that ball. We've done good things.
"We are working to get the balance right. We are doing more or less the same we have done before, but now people say, 'Province are playing running rugby again'."
Griquas' depth has been tested this season as they have lost several players to injuries throughout their campaign. Coach Pote Human is realistic and knows that his side will battle to beat WP at Newlands.
He remains optimistic about securing a win, however, and hopes that by doing that they can ultimately avoid finishing in last place on the table.
"We have to be realistic and look at the upcoming promotion/relegation matches," said Human.
"If we can finish above the Blue Bulls on the points log, we will be safe from that.
"It's never easy going to Newlands and we know that we are the underdogs for a victory."
Prediction: The home side are on a roll and seem to be hitting form at the right time. Griquas will be like lambs to the slaughter and Western Province will win this match by 18 points!
The teams:
Western Province: 15 Gio Aplon, 14 Gerhard van den Heever, 13 Juan de Jongh, 12 Damian de Allende, 11 Cheslin Kolbe, 10 Kurt Coleman, 9 Nic Groom, 8 Nizaam Carr, 7 Rynhardt Elstadt, 6 Rohan Kitshoff, 5 De Kock Steenkamp (c), 4 Taz Fuzani, 3 Pat Cilliers, 2 Scarra Ntubeni, 1 Steven Kitshoff.
Replacements: 16 Michael Willemse, 17 Brok Harris, 18 Gerbrandt Grobler, 19 Rayn Smid, 20 Josh Katzen, 21 Louis Schreuder, 22 Demetri Catrakilis.
Griquas: 15 Gouws Prinsloo, 14 Nico Scheepers, 13 Jean Stemmet, 12 Howard Mnisi, 11 Rocco Jansen, 10 Francois Brummer, 9 Jacques Coetzee, 8 Leon Karemaker, 7 Burger Schoeman, 6 Marnus Schoeman, 5 Jaco Nepgen, 4 Rory Arnold, 3 Nick Schonert, 2 Ryno Barnes (c), 1 Steph Roberts.
Replacements: 16 Matt Dobson, 17 Brummer Badenhorst, 18 Patrick O'Brien, 19 RJ Liebenberg, 20 Marnus Hugo, 21 Du Randt Gerber, 22 Richard Lawson.
Referee: Lourens van der Merwe
---
Sharks v Free State Cheetahs
Kings Park Stadium, Durban
Both these teams know that they can't afford to lose if they want to be among the frontrunners in the competition. In their corresponding match in Bloemfontein earlier this year, the Sharks claimed a morale-boosting 18-15 win after Naka Drotske's charges went to sleep in the second half.
The Durban-based side have included Springbok flanker Marcell Coetzee in their starting XV and the young tearaway is hungry for action after kicking his heels amongst the unused replacements during the Boks' recent tour to Australasia.
"I had an awesome time with the Boks," he said.
"Even though I was not playing, I was gaining a lot of experience. But now I'm back here and it's great to be back at training with my province and I'm looking forward to the weekend."
Last weekend, the Sharks pulled off a battling 25-24 win over Griquas in Kimberley.
"I think the boys (the Sharks) have been doing very well this season," Coetzee said.
"You can see the work rate on the field. I'm just here at training and I'm already breathing my lungs out."
The Cheetahs know the importance of this match as it could play a huge role in deciding who gets a home semi-final.
Drotske has made just one change to his run-on side - lock Lood de Jager returns in place of Teboho Mohoje - which shows some continuity.
They beat the Golden Lions last weekend but have been very inconsistent throughout the campaign. Experienced players like Robert Ebersohn and Trevor Nyakane will be expected to lead the charge.
Prediction: The Cheetahs' inconsistency is set to continue and the Sharks will triumph by six points!
The teams:
Free State Cheetahs: 15 Hennie Daniller, 14 Riaan Smit, 13 Johann Sadie, 12 Robert Ebersohn, 11 Raymond Rhule, 10 Elgar Watts, 9 Sarel Pretorius, 8 Davon Raubenheimer, 7 Lappies Labuschagne, 6 Boom Prinsloo (c), 5 Waltie Vermeulen, 4 Lood de Jager, 3 Rossouw de Klerk, 2 Hercu Liebenberg, 1 Trevor Nyakane.
Replacements: 16 AJ le Roux, 17 Schalk van der Merwe, 18 Teboho Mohoje, 19 Philip van der Walt, 20 Piet van Zyl, 21 Ryno Benjamin, 22 Willie du Plessis.
The Sharks: 15 SP Marais, 14 Odwa Ndungane, 13 Tim Whitehead, 12 Heimar Williams, 11 Lwazi Mvovo, 10 Fred Zeilinga, 9 Charl McLeod, 8 Keegan Daniel (c), 7 Tera Mtembu, 6 Marcell Coetzee, 5 Pieter-Steph du Toit, 4 Peet Marais, 3 Wiehahn Herbst, 2 Kyle Cooper, 1 Dale Chadwick.
Replacements: 16 Monde Hadebe, 17 Rayno Gerber, 18 Edwin Hewitt, 19 Brynard Stander, 20 Cobus Reinach, 21 Butch James, 22 Jaco van Tonder.
Referee: Marius Jonker
---
Golden Lions v Blue Bulls
Ellis Park Stadium, Johannesburg
The weekend's final match could also have a huge bearing on how the rest of the season pans out. With WP expected to beat Griquas there could be a gap opening in the standings - with the Bulls and Griquas drifting further away from the play-off berths - if the Lions secure victory in this match.
Bulls coach Pine Pienaar is aware of this scenario and is determined to avoid defeat at all costs."There are still four games left and we are five points behind the fourth team on the log which is the Lions," he said.
"It is a must win for us - we can win all four and maybe not make it - but to keep our hopes alive for that semi we have to go out and win this weekend.
"Mathematically you may still make it, but then it is not up to you."
The Bulls were outplayed in their defeat to WP last weekend and captain Jono Ross said the players needed to take responsibility for their performances following a lacklustre display against the champions.
"We are the guys that are out there playing for 80 minutes, so we are responsible for what happens on the field," he explained.
"We need to stand up and be counted now."
Lions coach Johan Ackermann has made several changes to his starting line-up after suffering a narrow 26-23 loss to the Cheetahs in Bloemfontein last weekend.
He does, however, have a more experienced unit than Pienaar and this could prove vital in the end. In Elton Jantjies and Marnitz Boshoff he also has two accurate goal-kickers as well as superb game-breakers.
Amongst the forwards, keep a close watch on the home side's back-row of captain Derrick Minnie, who will play at number eight, Warwick Tecklenberg and Jaco Kriel. These players compliment each other and play a huge part in implementing the Lions' expansive game-plan.
Prediction: The Bulls' inexperience have counted against them throughout this season. That will continue this weekend and the Lions will win by eight points!
The teams:
Golden Lions: 15 Marnitz Boshoff, 14 Andries Coetzee, 13 Deon Helberg, 12 Dylan des Fountain, 11 Anthony Volmink, 10 Elton Jantjies, 9 Ross Cronjé, 8 Derick Minnie (captain), 7 Warwick Tecklenberg, 6 Jaco Kriel, 5 Franco van der Merwe, 4 Stephan Greeff, 3 Ruan Dreyer, 2 Robbie Coetzee, 1 CJ van der Linde.
Replacements: 16 Willie Wepener, 17 Jacques van Rooyen, 18 Chris van Zyl, 19 Lambert Groenewald, 20 Guy Cronjé, 21 Lionel Cronjé, 22 Ruhan Nel.
Blue Bulls: 15 Clayton Blommetjies, 14 Akona Ndungane, 13 Ulrich Beyers, 12 Francois Venter, 11 Bjorn Basson, 10 Tony Jantjies, 9 Rudy Paige, 8 Jono Ross (capt), 7 Jacques du Plessis, 6 Wiaan Liebenberg, 5 Wilhelm Steenkamp, 4 Paul Willemse, 3 Werner Kruger, 2 Bandise Maku, 1 Morné Mellett.
Replacements: 16 Jaco Visagie, 17 Frik Kirsten, 18 Grant Hattingh, 19 Jacques Engelbrecht, 20 Lohan Jacobs, 21 William Small-Smith, 22 Jurgen Visser.
Referee: Stuart Berry