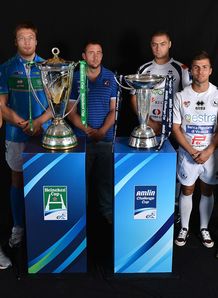 Related links
Also see
European Rugby Cup Limited (ERC) is set to study two alternative proposals tabled by the PRO12 and a combined English and French club effort.
This comes a step forward in the saga following two fruitless meetings and a recent controversial one where Premiership Rugby were not invited.
English and French clubs have tabled a 20-team tournament while the PRO12 proposal is for a 32-team campaign, which the ERC will now assess.
It's expected the results of the evaluation will be presented at the meeting of ERC stakeholders, which is to be held in London on December 12.
The formerly mentioned proposal would mean all teams would need to qualify on merit so as to remove the guaranteed places for outfits in the PRO12. Meanwhile, the latter idea would be for the Heineken Cup and Amlin Challenge Cup to be replaced with one big competition, which the French snubbed. Premiership Rugby and their French counterparts don't like that idea as it would leave the bottom two clubs in their league without European rugby.
"This evaluation will examine the rationale for the proposed changes to both tournaments, as well as the impact on all stakeholders of any change to the format and structure of the competitions," the ERC said in a statement.