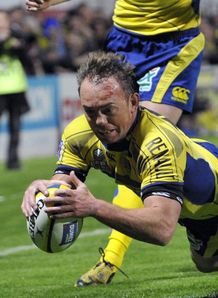 Related links
Also see
Clermont won the Top 14 top of the table clash 25-19 against Castres on Friday, taking second spot and consigning Castres to third.
The visitors to a hitherto unconquered Stade Marcel Michelin delivered a fantastic fight and for a time looked to have preyed upon a Euro hangover for Clermont.
But once Elvis Vermeulen had been driven over by his pack early in the second half for Clermont's second try, the tide of the match turned for good and the home side's victory was as inevitable as it was exciting.
Castres took a stunning 13-5 lead into the changing rooms. Romain Teulet landed two early penalties as Castres'pack forced Clermont into a number of early errors.
Marius Joubert restored near-parity though with the opening try, following a handling movement ot the left and a straightening of the line by Julien Pierre.
But Castres were not bowed by the fightback and extended the lead, when Romain Cabannes broke down the right and flipped an offload off the ground to the ever-dangerous Marc Andreu, who skipped past two tackles to score.
Romain Teulet succeeded with the conversion where Brock James had failed, making it 13-5, then extended the lead to 16-5 in minute 46 with his third penalty. The tension around the Marcel Michelin was palpable.
But the home fans needn't have worried. Vermeulen's try and Morgan Parra's conversion brought them back into the game and Parra landed a penalty after 64 minutes to reduce the arrears to one.
Then Castres full-back Florian Denos failed to deal with a kick through and Gonzalo Canale pounced upon the youngster's indecision to score. Parra made it 22-16.
The two kickers exchanged penalties and Castres did press for a winning score but the energy had gone out of their attacks. Clermont are now sitting pretty for a top two spot while Castres, top of the table for so long, now look as though they may not even manage a home play-off spot.