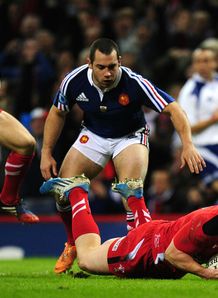 Related links
Teams
Also see
Furious France coach Philippe Saint-André on Saturday called on his players to play with fire in their bellies and turn things around for the remainder of the Six Nations following their 27-6 defeat to Wales.
The 46-year-old, who saw hopes of a first Grand Slam during his reign evaporate as the Welsh produced a dominant performance on Friday, was scathing about the team's display and said there would be changes to personnel ahead of the away trip to Scotland in a fortnight.
Saint-André will hope that they can obtain their first away win since triumphing at Murrayfield in 2012, but have injury concerns over Yannick Nyanga and Wesley Fofana, two of their more impressive performers against the Welsh.
Saint-André was so angry about the manner of the defeat in Cardiff that, for the first time, he took aim at the players, something he refrained from doing even in last year's Six Nations when the French ended up with the Wooden Spoon.
"I want the players to come back from this and in the next game play with fire in their bellies and turn things around," said Saint-André at the French base in Newport.
Saint-André, may have his plan of recalling Morgan Parra upset as the 54-times capped Clermont scrum-half was sent off during his side's Top14 game against Montpellier later on Saturday for headbutting Rene Ranger.
Friday's first choice Jean-Marc Doussain had a nightmare at scrum-half against the Welsh, although the fact he played the whole 80 minutes for his club Toulouse --who ignored Saint-André's plea not to field players who had started the first two Six Nations games - the weekend before seemed to have played a role in his performance.
"For sure there will be changes," said Saint-André.
"There will be those who are returning from injury," added Saint-André, referring not only to Parra but also to backrow forward Bernard Le Roux, who missed the Wales game because he was concussed in the 30-10 win over Italy.
Saint-André, who will unveil his 30-man squad on Monday and then have to ask the coaches of the Top14 clubs concerned not to play those players next weekend, said that several had allowed the match to completely pass them by.
"There were failures among the players," he said.
"We know that these are players of quality, but certain ones let the occasions get to them.
"There are several players who talked too much instead of doing their job on the pitch."
Saint-André, who was extremely disappointed by the fashion in which his forward pack was dismantled by the Welsh, said that his pre-match message seemed to have fallen on deaf ears.
"I told them that the match could act as the key to happiness," said the former France captain and wing.
"You win and it will open up the way to something exceptional (the Grand Slam potentially).
"I'm annoyed. It is hugely disillusioning, hugely disappointing, we just weren't up to much."