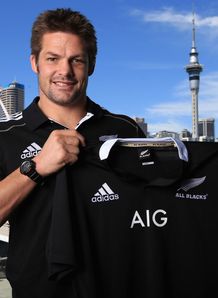 Related links
Teams
Also see
New Zealand will emblazon a sponsor's logo on their jerseys for only the second time in their 107-year history under a deal signed with USA insurance giant AIG.
The New Zealand Rugby Union (NZRU) said the famous black jersey would carry the AIG logo until mid-2018 under a sponsorship arrangement needed to boost cash reserves and put the Union on a sustainable footing.
"This is not a decision we have taken lightly... it is a very positive opportunity to secure the additional funds that we need to help safeguard the future of the game in this country," said NZRU chief executive Steve Tew.
While the jersey has long displayed the name of All Blacks' kit provider, currently adidas, the only other time it has featured a corporate logo was when the team was sponsored by brewer Steinlager in the 1990s.
Many New Zealanders regard the jersey as sacrosanct and the NZRU said it carried out extensive consultation before signing the new deal, the financial details of which have not been released.
AIG sponsored English Premier League club Manchester United from 2006 to 2010 but ended the deal after receiving a record $182 billion bailout from the US government at the height of the global financial crisis.
All Blacks skipper Richie McCaw backed the relationship with AIG.
"It's really flattering that a company this big has chosen New Zealand rugby to be its cornerstone sponsorship," he said. "It shows incredible respect for our traditions, heritage and record of success."
The NZRU said it cost NZ$100 million ($82 million) a year to run rugby in New Zealand and new revenue was needed.
"We are currently forecasting deficits over the coming years, which means using cash reserves in the short term to meet this. This is simply not sustainable," it said.
The All Blacks will wear the new jersey for the first time when they play Australia in Brisbane on October 20.