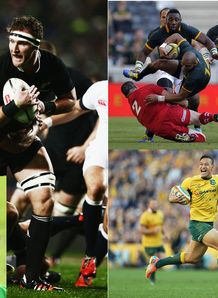 Related links
Also see
In the final edition of Expert Witness for June, former England loose forward Nick Easter looks back at the weekend's action.
At the start of England's series in New Zealand, most judges were suggesting that one win from three Tests would be a creditable and worthwhile return from the improving English.
This goal proved to be a bridge too far from Stuart Lancaster's troops and Easter puts it down to speed: speed of learning, of thinking and most of all, of skill execution.
"That will be one of the most bitterly disappointing losses of Stuart Lancaster's tenure," said Easter.
"All year we've heard to proclamations about detail and execution from the coaches, but on Saturday simple basic errors absolutely destroyed England.
"The first kick of the game defined everything that followed. So much that went well for us in previous matches seemed to come to a grinding halt this weekend and that is no coincidence. It's down to the astute and brilliant understanding New Zealand have for their national sport."
Depressing indeed if you're an Englishman.
"Watching from thousands of miles away your didn't get a feel for how dirty a day that was," he explained.
"It was filthy - wet, miserable and nasty!
"Yet New Zealand did not waver from their commitment to handling rugby. In those conditions their performance was even more remarkable. They were a world apart.
"We talk about taking positives and learning points out of a game in defeat or victory. New Zealand learned every time they beat us. Initially, they struggled with our press defence, which I explained last week. Within three Tests, they'd absolutely overcome it, decided that they could use hand speed along the line to get around the press and executed exactly that. Self-belief, tactical acumen and brilliant execution, those are the hallmarks of this amazing side.
"They broke the game down, turned England's perceived defensive strength into a weakness though clever analysis and in the last 100 or so minutes of test rugby, have torn us to shreds.
"You also have a fledgling midfield there and asking them to communicate against the best and defend against that attack was always challenging. At times, Kyle Eastmond didn't take a step towards the ball once it had gone away from his channel. That left a big hole between the two centres and New Zealand exploited it."
It seemed no coincidence that the All Black improvement coincided with the return of their superstar number eight, Kieran Read. Easter believed he brought a real spark to the first 40 minutes.
"Kieran is an exceptional player but also a key leader. Watch the game closely and his speed of thought is noticeable," remarked Easter.
"New Zealand wanted pace and that went through every aspect of their game. Read calls their line-out, and he was deliberately calling it before England had formed and then taking the quickest and longest of throws, firstly to give England as little time as possible to align, but secondly, that middle and tail ball gives so much width and momentum to an attack faced with a press defence.
"He was sublime for 40 minutes and it was notable that New Zealand just fell away slightly once he'd gone off and in truth, their line-out went to pieces in comparison to the well-oiled machine that we saw in the first half.
"The simple truth is speed and handling like this can't be matched by England right now," added Easter.
"Is this another tour of hell? No, I don't think so. What it has done is made England even more realistic about what they need to do. It's a harsh truism but you can't be the best until you've seen just how good 'the best' are. And we saw that.
"Yes, they'll be despondent that the one win didn't happen; but now England will move forward knowing where that benchmark is. Maybe we won't match the handling skills but we can certainly define our own strengths to idenitfy a gameplan that can beat some of the top class opposition we will be facing in November," added Easter.
Wales, bruised and battered last weekend, showed a dramatic turnaround in form as they came within a touchline of their first win on South African soil.
With compelling displays from a hungry Alex Cuthbert, Ken Owen and a tireless Josh Turnbull, Welsh hearts were shattered when Steve Walsh awarded a penalty try in the dying moments.
"No complaints with the penalty try, it was the right call. It does go to show how much the TMO is changing rugby as we've seen many tackles like that in the past going unpunished. However, Wales really came alive this weekend," noted Easter.
"I was very critical last week of "Warrenball" and in truth, I didn't feel Wales had the physical gift to slug it out.
"But gainline domination is all about belief and want. There must have been strong words in the camp last week and Wales came out a different side.
"Key to this was a solid forward platform. Josh Turnbull, a big openside, really did well and was a strong physical presence around the gainline. I often make the point about clearing out beyond the ruck and he did this to great effect, keeping the big South Africans at bay. This absolutely defuses momentum and makes the opposition start from beyond their own gainline and possession line.
"Samson Lee did really well at tighthead too. Tendai Mtawarira is noted for wanting to scrummage upwards and to try and 'pop' the tighthead, something that is illegal but very disruptive. Lee did very well in this area and Wales seem to have unearthed a quality prop.
"Alex Cuthbert too seemed to have a more roving role, coming in in different angles to disrupt and move the big Springboks around. He really created some headaches for the Bokke.
"However, Wales can rue the penalty try but, for a side that operates the press/rush defence, the about of room they gave Willie Le Roux leading up to the final try was criminal.
Rush defences are about closing the man down ruthlessly before he gets momentum. Wales gave him as much room as he'd ever need and he cut them to ribbons as he'd done in previous weeks. It's also true to say that once SA decided they wanted to keep it in the maul, Wales struggled to cope. Stopping a rolling maul legally is very, very hard; collapsing it is utterly illegal but pragmatically, it's the best way.
"But that needs to be done as the maul is formed not once it gains momentum as then a collapse is more obvious. Once Wales allowed the maul to start, cards became inevitable as they had no choice but to do what they did. You need either to sack the carrier straight away, or drive either side to split the support off, neither of which Wales executed. But in essence they'll be thrilled with the improvement in performance, even if they failed to close it off."
In Sydney, France's rocky season finally came to a merciless end as a ruthless display of finishing from Australia destroyed les Bleus with pace and panache.
At the centre of all things gold was the peerless Israel Folau, the man with a fittingly Midas touch.
"This is an absolutely morale crushing defeat," noted Easter.
"France at least stemmed the tide last week with a very strong defensive performance but seven days later they again failed to turn up which is becoming habitual.
"In my last column I observed that France had finally picked their best starting back row and that that had made a difference. Whimsically, the moment they do that they change it the following week!
"Crucially, the lack of defined defensive system and the inability to execute simple things is staggering. This is a nation whose clubs do consistently well in Europe, yet at international level can't execute basic skills.
"It's astonishing and whilst I note Philippe Saint-André's comments about the toll the domestic competitions are having, it's pretty much the same for all top flight nations and the key here is to develop a replicable system in defence and attack that your core of squad players can fit into quickly and easily.
"A national rugby DNA in other words. I'd be far more worried about the lack of motivation and basic rugby discipline that the coach is failing to instil. I could dissect the game technically, but this is about the top line strategy of the team and the underlying commitment to win.
"It's questionable and that's an awful thing to have to say," observed the Harlequin.
"Australia meanwhile were compelling. The speed of their backline and their ability to bring Folau into the 13/14 channel is sensational. Look at Folau's key weapon, his step and go around the outside. Once you've stretched the defence, even if you watch the ball and offer him that outside line you have to execute the drift and his step is just too quick to adopt that press and drift.
"Michael Hooper again created mayhem at the breakdown; he's a lightweight backrower and the only way you can prevent his spoiling is to throw him back from where he came. France failed to do that as they did the previous week and that allowed him to boss everything around the contact zone.
"As with New Zealand, again passing with precision and pace seems intuitive to the Wallabies. The Rugby Championship is in for a treat of back play when the two nations meet this season.
"I'm not quite sure what's happening in the Southern Hemisphere but the quality of full-backs on display last weekend was simply brilliant. Folau, Smith and Le Roux were each the key men for their sides. I know Planet Rugby pick their weekend Test XV each Monday and I'm just glad I'm not a selector!" he grinned.
With Scotland scraping a win in Argentina and Italy being downed by Japan, Northern Hemisphere rugby has taken a battering over the last few weeks. However, Easter doesn't believe it's all gloom and doom.
"If you want to progress in international rugby you have to know where the standard is. England will now be under no illusion what they've got to do to compete with New Zealand, which is healthy," he said.
"Twickenham always gives us a 10 point advantage and the November visit will be one of the most anticipated games in years. Wales too took learning from their previous defeat and showed they can learn too, although I still believe tactically they're predictable. But there are concerns over other nations performances, notably France who seem intent on defining every cliché every written about them," he commented.
"It's been a great few weeks of June test rugby and I've thoroughly enjoyed commenting on the games."
We would like to thank Nick for his time delivering the articles. Expert Witnesswill be back for the eagerly-anticipated November Tests.
Nick Easter spoke to James While
Nick Easter played 47 tests for England as a number eight with exceptional ball skills and a powerful physical presence. Regarded by many as one of the most influential forces in English Rugby, Easter's career at Harlequins has been rewarded with a benefit in 2014/15. For details, visit nickeasterbenefityear.com