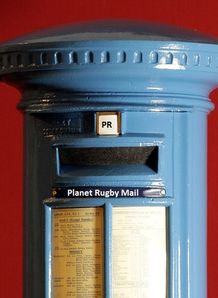 Planet Rugby readers are never short of an opinion and our mailbox is seldom empty. This week, a disgruntled Scotland fan questions the use of the big screen by referees.
Got an opinion? We'd like to hear it, so why not send us an email HERE.
Stuart Hogg should not have seen red
By Duncan Macintyre
There has been much debate about the Wales v Scotland Six Nations match on the 15th March as to whether Stuart Hogg's red card was justified.
Something which has received far less discussion but is of much greater relevance to the wider game is how referee Jérôme Garcès made his decision and whether it was allowed under the laws of the game.
The red card was given for Hogg jumping dangerously into Dan Biggar after Biggar had kicked the ball downfield.
Garcès, who had a clear view of the incident, stopped the game immediately and showed the yellow card to Hogg without consulting his touch judges or the Television Match Official (TMO). As Hogg walked off the pitch various replays of the incident were replayed on the stadium's big screens. Garcès watched the replays and then decided to alter his original decision to a red card.
The relevant laws of the game here are Law 6.A.5 - The referee may alter a decision when an assistant referee has raised the flag to signal touch or an act of foul play and Law 6.A.6.d - The referee must not consult with any other persons.
Law 6.A.5 is not applicable as Garcès had clearly seen the incident and had made a decision of foul play without consulting his touch judges.
Law 6.A.6.d is however applicable and by watching the replays on the big screens Garcès was effectively consulting with the person in charge of choosing what footage was screened.
This is not allowed presumably because it gives a major advantage to the home team as they are able to decide what decisions to replay. Contentious decisions involving the home team might not be replayed, whilst every decision in favour of the away team could be replayed in slow-motion with the hope of identifying any potential infringements.
An IRB memo released in September 2013 did change the TMO protocol to allow the referee to make decisions based on the big screens but only when the decision had already been referred to the TMO.
After the match Warren Gatland also weighed in with a lack of knowledge of the laws of the game by reportedly stating "we'd seen it in the box but we got a message pretty quickly to Sam Warburton to ask him to have the TMO have a look at it".
However under Law 6.A.6.d it is not allowed for a player to ask the referee to refer decisions to a TMO so this would have been a fruitless course of action had Garcès not already decided to alter his original decision.
If Garcès' decision was allowed under IRB regulations then this has not been communicated by the IRB properly and has certainly not been used consistently by other referees, furthermore without an independent fourth official in charge of broadcasting the replays it cannot be considered a fair process of adjudication.
If Garcès' decision was not allowed then Scotland has suffered a major injustice and Garcès has made a significant blunder that may affect his status as an elite panel referee.
Although the disciplinary committee has subsequently ruled that Hogg's challenge deserved a three-week ban, this alone cannot be considered justification for Garcès altering his decision. There have been many dubious refereeing decisions over the years that would have been altered if the referee had checked a big screen replay.
If Garcès had no authority to use the replay to correct his initial mistake then he has shown an appalling lack of knowledge of the laws of the game and also set a dangerous precedent that home teams would be foolish not to seek to exploit, and the IRB must act quickly to rectify the situation.
Requests to the IRB for clarification on the laws surrounding this issue have gone unanswered, although their policy of not publicly criticising referees may not allow them to reply.
For the tens of thousands of Scottish rugby fans who paid for an expensive match ticket, and travelled for many hours in the prospect of watching a great game of rugby refereed to a high standard this is unfair.
Hogg had the decency to apologise to the fans, Garcès and Biggar. Garcès and the IRB, it seems, don't respect the Scottish fans enough to do the same.