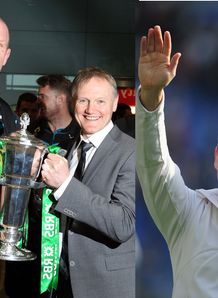 With an epic Six Nations concluded in the dying moments of the final fixture, this week's Expert Witness welcomes back former England skipper Martin Corry with his thoughts on the state of the nations.
"What a great way for the season to end," smiled Corry.
"Looking back, I think that overall Ireland and England will be satisfied, Wales and France disappointed with Scotland and Italy dejected.
"Let's kick off with the champions, Ireland. We were aware of the all-round balance of their side, with a powerful set of forwards and of course the supreme balance of their midfield. Perhaps what we didn't expect were the contributions of Chris Henry and Peter O'Mahoney in the back row," he explained.
With the ever-intelligent Joe Schmidt now at the helm, Corry believes Ireland played a more expansive and varied game, and that the loose forward partnership was at the centre of this.
"A lot was made of Sean O'Brien's injuries before the tournament with question marks over how Ireland would cope. Not only did the other two flankers perform, but O'Mahoney in particular allowed Joe Schmidt to deviate from the well-known Munster choke tackle, and gave Ireland the option of putting the man on the floor and jackaling for turnover," noted the Lion.
"Ireland, led by the immense Paul O'Connell are a very capable side, good without being truly great and their forward dominance was particularly impressive. What I would question, and this is purely pragmatic, is if they've peaked? This was the last season for my old pal Brian O'Driscoll. Yes, you can probably replace him as a centre but how do you replace his experience, leadership and tactical vision? The short answer is you can't and his retirement weakens their side of that there is no question.
"However, in the plus column, Ireland have 15 Tests to get used to a new midfield combination and that allows Schmidt some time to consider his options."
What of England? A side palpably weakened with the unavailability of six players at the start of the competition, Corry believes that Stuart Lancaster turned the injury list to his advantage in a fortuitous but intelligent fashion;
"I'm obviously biased, but I have to confess to being very impressed by England," he said, proudly.
"Now the emotion has died down, let's look at a number of key factors. Firstly, the way the fixtures fell allowed us to get momentum. A stern litmus test in Paris, followed by the chance to build against a poor Scotland and a declining Wales. We then took that form to beat Ireland and then turned on a majestic display in Italy.
"Ponder for one moment the position if we'd gone to Paris and played them last for the championship and failed. It would have been catastrophic. The headlines would be 'Lancaster's Chokers' or something of that ilk, but the performances would have been identical yet the media analysis totally different," explained Corry.
"Secondly, I was delighted with how we reacted to certain situations. Take the Irish game; they came out and turned the heat up like no other side did against us since New Zealand and Stuart's boys reacted. It was gladiatorial stuff and experiences like that will be the making of this young side.
"Thirdly, we now have a view the side is a work in progress, not champions. This dissipates a degree of pressure and it allows the coaches to tinker honestly with the team. We're not the finished article yet, but I'm delighted to see that we've probably got two contenders in each position at Test level.
"The pack is a great unit but even that can improve. Despite Robshaw's brilliance, there's pressure on him with the return of Tom Croft (bearing in mind Tom Wood's ability to play six or seven). George Ford gives depth to the ten jersey, but for my money Freddie Burns still is a better impact option and two proven world-class props are set to return in Cole and Corbisiero," observed the former Tiger.
"The emergence of Luther Burrell is really pleasing and takes pressure off the RFU Sam Burgess gamble and Brad Barritt, a forgotten man, is still a robust test option at 12 or 13.
"Maybe the wings are not sure of their places, but Stuart has earned the luxury now of taking a few educated gambles. Personally, I'd use the next 15 Tests to experiment with how Manu Tuilagi could be fitted into the team. Manu played a lot of his early rugby on the wing, and whilst he's not going to gas someone on the outside, the other qualities he brings could make a good backline even better if the tactics and structure are right," mused Corry.
"All in all, it was a tremendous season for England. We have a realistic reflection of where we are as a side and, in comparison to Ireland who are near enough peaking, I genuinely believe we have the players and potential to improve by as much as 25 or 30 percent, maybe more. If we get our World Cup group matches right, we only have to face New Zealand of the 'big three' out of the group stages and with improvement and home advantage we are very capable of taking them.
"I am hugely excited by this group of players and I believe that we've truly turned the corner," said Corry.
Enough of the English hyperbole!
Wales were a side that failed to live up to the standards lain down both last year and on the British and Irish Lions tour to Australia. With a mixed bag of the season, beaten by their oldest foes in convincing style, the Dragons signed off in style against an object Scotland.
Corry believes that their own strength has become their biggest weakness;
"Wales' gameplan is clearly defined. But in order to execute it, they need to win the collision. There are no ifs or buts about it; their whole strategy relies upon dominating the contact zone," he explained.
"Once Ireland and England exceeded them in that area, shutting them down brilliantly, they were doomed in both games. They simply don't have the ability to change their patterns, despite the quality of the back line.
"One other aspect of this is player welfare management. Wales have always looked after their stars very well, and Gatland's been exemplary in maintaining their freshness. But with so many now plying their craft out of the Welsh system, the players are not getting that welfare.
"Naturally, the French clubs with their big wage bills need to sweat their playing assets and I believe Wales are losing out due to this. Furthermore, in both Ireland's and England's case a few new faces have emerged to strengthen their side. Wales, save possibly for Liam Williams, have pretty much the same players they knew about 12 months ago, so there's been no real progression," noted Corry.
"But you can't denude their ability or the quality of the likes of Jamie Roberts, George North and others. It's just obvious what you need to do to beat them and unless they find some new methodology they'll always be faced with that simple truth.
"In short, Wales will be bitterly disappointed with the campaign and the lapsing of their own high standards," said Corry.
In France, each of our Expert Witnesses have made the point about the unpredictability of the Gallic side. With Peter Winterbottom and Martyn Williams both questioning their structure, Corry takes an opposing view, suggesting that France may be being guilty of being too committed to a preordained plan.
"The very nature of French rugby is expression," he commented.
"I think that Philippe Saint-André may have taken too much of a Premiership approach to his side and that they're being denied the freedom to express themselves.
"If you look at the times they were most dangerous, in the latter stages of both the Irish and the English games, it was when the game became ad-hoc and deconstructed. At that moment the likes of Basteraeud and Huget made telling interventions but when trying to play a more formal gameplan in the early exchanges, they looked vulnerable.
"Papé and Nyanga were also outstanding, but elsewhere, such as their much vaunted front row, they were poor.
"If the truth be known, they really didn't live up to anything like their potential and frustration will be the watchword of their campaign," explained the former England captain.
Up in Scotland, for the third time in twelve months, a new hand will hold the tiller for their next Test matches. Vern Cotter takes over from interim coach Scott Johnson, but Corry believes the former Clermont coach will have an unenviable task.
"In France, Vern could buy in some talent. You can't do that at international level and Scotland have a shallow pool of players. You can't wave a magic wand and create a new player," he said.
"The Duncan Weir celebrations against Italy really summed up the Scottish ambitions for me; they were delighted to win against lowly Italy and that marks where they truly are in every aspect.
"The next year is crucial for Scotland. I do believe that there's a spine of good forwards up there and that Cotter's understanding of the set piece will allow a more pragmatic approach to develop, but you can't create a miracle overnight and Scotland are in pretty poor health in rugby terms right now, I am afraid to say."
Lastly, we come to Italy. A side that showed a great improvement in early games but as the tournament developed injuries and fatigue played their part and Italy simply surrendered in their final fixture in Rome as England destroyed their fortress. Martin Corry sees a parallel with Scotland in the Italian fortunes, but is perhaps more hopeful of their potential to improve.
"Italy suffer from that same paucity of depth that Scotland have. They do however have a smattering of world class operators to take them through to RWC 2015 and this year at least we saw a couple of very bright young talents in Josh Furno and Michelle Campagnalo arrive in the blue shirt," said Corry.
"They're a solid outfit, but they'll be devastated not to have closed out the Scotland game.
"One thing I will point out, they are as ever, a bruising side to play against. England's demolition job in Rome showed just what can be done if you refuse to get embroiled in the arm wrestle.
"But all in all, stylistically, Italy had a slightly better campaign than the Scots but without a win. They'll nurture what they have, play the same basic game they always have but need to dig deep for new blood."
So there we have it. The curtain falls on another Six Nations season, one that emphasised the strength of Ireland and the promise of England, but with other nations falling short of expectations.
In closing, Planet Rugby would like to thank all of our experts, Brian Liebenberg, Mike Tindall, Peter Winterbottom, Martyn Williams and Martin Corry, for sharing the wisdom of a combined total of 330 Test matches and seven British and Irish Lions tours over these last six weeks. It's been a pleasure working with these players and we hope you've enjoyed, if not always agreed with, their comments.
Expert Witness will return for the June test matches and we look forward sharing our views once again.
Martin Corry spoke to James While