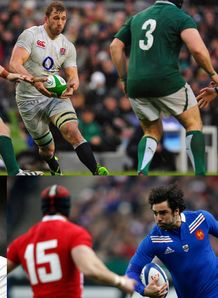 With the 2014 Six Nations heading into it's third weekend, Expert Witness welcomes England's former powerhouse openside, Peter Winterbottom, to scrutinise the forthcoming events.
"This promises to be a pivotal weekend,' smiled the Yorkshireman.
"Wales, who have been somewhat stuttering champions, host the resurgent French, England entertain the powerful Irish and Scotland have the daunting task of holding off a much improved Italy.
"It's a weekend that could make or break the fortunes of a number of sides.
Wales have been an unimpressive side thus far. With sides combatting their physical midfield and shorn of the intuitive centre partnership of Jamie Roberts and Jonathan Davies, the Welsh have won unconvincingly against Italy and were soundly beaten in Dublin.
Winterbottom believes that Wales have a mountain to climb:
"Look, Mike Tindall summed it up on Expert Witness last week; Warren Gatland simply has no more bulk to throw at his well-worn Plan A. Sides know how to counter them and they know what to expect," noted the veteran of two Lions campaigns.
"When Wales play well, the big boys provide the basic platform and they look to force minor infringements in the opposition half. The key player there is Leigh Halfpenny due to the accuracy and range of his boot. They then have two or three game changing players - George North, Jamie Roberts - and they'll trust these guys to put in a big play.
"However, this year various things have conspired to decimate the Welsh approach. Firstly, and as overall observation, they've lost a bit of mojo. With a backline that good and big, you need snapped quick passing and the big guys will do the rest. It's almost as if they're not expecting to make that extra half yard in contact and therefore they're not winning the gainline collision, something that's essential to their ambition.
"Gainline battles are a fight of inches (something we'll touch upon later), but this year, against both Italy for 50 minutes and Ireland for 80, they lost that area of the game.
"The last point is of pure technique; Adam Jones, Wales' formidable tighthead, based his game (and the Welsh scrummage) around winning the hit, something that he was the world master at doing. Now that element has been eliminated, Jones' scrummaging has, to a degree, been neutered, and the Welsh eight are struggling to impose themselves and winning far fewer 'hit' penalties. In March, they scored 12 points through their dominant from row versus England. Those penalties are tending to go the other way right now and it's hurting them."
France on the other hand, have been in scintillating form in 2014 and have perhaps shown a resolve that few believed existed in their game. With Pascal Papé the outstanding leader in the competition this year, aided and abetted by world class displays from Yannick Nyanga, Yoann Huget, and Wesley Fofana, France will travel to Cardiff in confident mood.
"If you're a bookmaker it's a tough call," grinned Winterbottom.
"Pascal Papé's leadership has been telling. I think France have often been guilty of engineering their own downfall. The big lock has instilled a belief and a welcome ability to concentrate for 80 minutes. That was key in closing out England, despite the botched defensive work by the visitors.
"Secondly, Yoann Huget is fast becoming one of the great wingers in world rugby. His ability to deliver the killer blow is superb; he finds space, he executes and, most importantly, he has an inherent knowledge of where space should be and could be, and finally at long last they have a proper ten.
"Look back at times when France have been effective, then they've had a specialist fly-half; Camberabero and Lamaison, those sorts of players. Jules Plisson has looked to the manor born, a quality operator in the pivotal position on the pitch and his vision and control have made a huge difference," noted Winterbottom, a man who defeated France twice in consecutive Grand Slam years.
"If you then consider they have the best front row in world rugby and a back row of huge talent, then you'll agree France have an immense future if they can keep their best players fit.
"I would temper the comments by also saying they have a lot more in the tank in terms of potential. There is a need in the French mentality to mix it up and win the forward battle, yet with the pace they have outside, they are capable of bolting on a greater degree of panache and élan to that immense power. If they do that, then they're capable of taking on any team in the world."
In Rome, Italy will entertain Scotland with a little more confidence than in recent times. Conversely, Scotland, a team decimated by wayward tactical options, bizarre and inconsistent selectorial policy and absolutely no form of any description, will be dreading facing the ever-physical Italians in their own back yard.
"How many times do Italy go into a match as firm favourites?" questioned Winterbottom.
"Much has been said in this column so far about Italy's resurgence and the form of Michele Campagnalo, Alex Zanni, Castro and others, so I don't intend to repeat that. What I will say is this should be the defining moment for Italy this season; they're a far superior side in ever department to the beleaguered Scots and not only do I fancy them to win, I believe this could be a serious statement by them and that Scotland could be in for one of the hardest days of their rugby lives. "
Winterbottom, a man who played in the iconic Murrayfield Grand Slam decider of 1990, believes Scotland, put simply, have lost the plot!
"When I watched the England game, I thought David Denton was absolutely immense in defence and contact. When he was subbed in the 58th minute I was surprised. To see Scott Johnston omitting him completely a week later is simply bizarre," he noted.
"That is one example of many crazy happenings in the Scotland camp, and I'm at a loss to understand it.
"Scotland need to go back to basics; get the set piece and defence right. Get a hooker who can throw and use basic rugby as a platform for damage limitation. Instead, Scott Johnson seems to be trying to play millionaire's rugby on the national minimum wage! It is utterly crazy and I have no clue what the tactical thinking, match strategy or fundamental cornerstones are. You expect to see some glimmer of light, some form of tactical methodology, but there are absolutely none. He is making the rugby of the once-proud Scots quite farcical right now and they have gone back light years from where the pragmatic but ultimately unsuccessful Andy Robinson left them.
"Worst of all, there seems to be no passion. I cannot recall playing against a Scottish side that had no belief. The Calders, Soles, Rutherfords; they had it in abundance. It was the essence of their game and it's sadly lacking right now.
"Jacques Brunel needs to tell the Italians this is their moment; a time not to beat a team but to put down a marker for Italian rugby. I'm relishing the match and I think Italy will take this by two or three scores," predicted the former England flank.
Ireland's visit to Twickenham promises to be a titanic match. The nous of the Irish pack and midfield against the explosive power and emerging tactical vision of England.
"Both sides have been impressive, haven't they?" said Winterbottom.
"But you expect that of an Irish side with 700 or so caps, so I have to say the young English side have been the real improvement and have really shown a new determination and, critically, have expanded their ambition in a very controlled and measured manner.
"New blood has assisted and picking the right players in the right positions has been key, But for me, it's all about the way England are bossing the gainline against every team they play.
"Consider this for a moment; in rugby there is a 'true' gain line; that's the centreline of the ball from the point it travels. Then there is the perceived gainline- i.e. the place from where the ball is first received after the pass. What England are doing is bossing the 'true' gainline, maybe only by a half a metre or so, but every time they tackle, they tackle behind it, losing the opposition a metre or so. When they carry, they go a metre past that true gainline, taking all momentum from the defence and keeping the opposition line going backwards. It is attritional stuff, but absolutely soul-destroying to play against.
"'I think England are starting to look like the real deal. Whilst I'm unconvinced by Owen Farrell's ability to orchestrate a backline, the players are learning how to play off each other, how to offload. And let's not forget the average age of that pack is around 24?
"Ireland's choke tackle and their ability to mix it up at the breakdown will be crucial. England cannot get drawn into that wrestling affair; they need to back their own skills, use the emerging footballing skills of Jack Nowell, Johnny May and Billy Twelvetrees and run the Irish around."
"I'm pleased Craig Joubert is officiating. He's big on releasing the tackler and that should work in England's favour,' explained Winterbottom.
"With Joubert keeping things real in the contact zone, the battle of the pilferers will also be key; the hugely impressive Peter O'Mahony versus the ever dependable Tom Wood. That's a delicious match up for all gastronomes of back row cuisine!
"For Ireland, Johnny Sexton was superb against Wales. But how much space did Wales give him? He had an armchair ride and England's defence, on current showing, need to continue their blitz strategy and give him a torrid time on the gainline.
"The other crucial factor will be playing for 80 minutes. England have failed to do that against both New Zealand and France and lost both as a result. There can be no relaxing this time; a full performance is needed to beat Ireland.
"With Dan Cole out I'm also delighted that David Wilson looks set to start. Wilson is rated by many as a better scrummager than Dan Cole, who brings other attributes (such as his breakdown work) to the game.
"However, Dan's not scrummaged well for two seasons now; it may be, as it was with Jason Leonard, that the bulging disc issue has been a bigger issue than first thought. Wilson will bring a good platform to the forwards and I'll be interested to see how he goes.
"One thing is for sure; this is a titanic weekend of Six Nations rugby, and this is the showpiece game. It's a tough one to call, but if England play for 80 minutes their power and ambition should carry them home."
Our thanks again go to Peter for his analysis and observations.
Peter Winterbottom was speaking to James While.
A world-class flanker, Peter Winterbottom won 58 caps for England and seven for the British and Irish Lions. An iconic figure in the number seven shirt, his intelligent support play and hard tacking were features of his game. Peter now runs the Rugby Marketing Communications Agency Full Contact