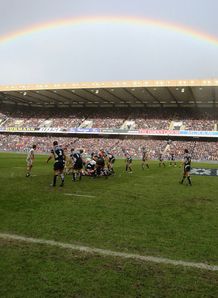 We have come to that time of the week when Planet Rugby brings you all an offering of a stand-out video we think you'll like the look of. Enjoy the show.
Our recent choices have seen Shane Williams, James O'Connor, a rampant All Blacks beating Ireland, a Dan Carter tribute and Toby Flood selected as we continue to scour the archives.
As it's Calcutta Cup week, we thought it only right to revisit a clash between Scotland and England. This Six Nations game came back in 2008 when Scotland prevailed 15-9 at a wet Murrayfield.
Other recent videos:
Six Nations
Best of O'Brien
Best of Flood
Game of 2013
Rugby with Real Madrid
Grenoble's drone
Super tries 2013
Cooper magic
Vintage Clermont
Jason Robinson
Soccer v Rugby
Classic Carter
Ireland nilled in New Zealand
Tribute to Kieran Read