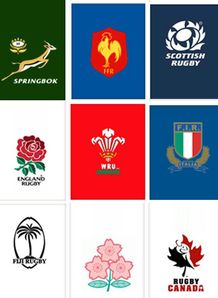 Related links
Also see
With the 2013 international fixtures now done and dusted, we look at the state of affairs in each of the world's Tier One nations.
Click on the country name to read the full review.
ARGENTINA: It's easy to forget after such a shocking year for the Pumas that they actually finished 2013 with a win over Italy, their first over a Tier One nation all year.
AUSTRALIA: There were lots of improvements from the Wallabies during the November Tests as they return Down Under following a busy five months since the Lions series.
ENGLAND: Battered and humiliated after their thumping against Wales at the close of the Six Nations, England turned their 2013 around since March with a run of four wins.
FRANCE: They say you learn through defeat. If that's true, France learnt a lot in 2013.
IRELAND: Despite the agony of coming painfully close to beating New Zeland, all in all it was a positive start to the Joe Schmidt era.
ITALY: The Azzurri are right back where they were at the start of the year, after 2013 proved to be a rollercoaster ride on the international scene.
SCOTLAND: There is a measure of cautious optimism around Murrayfield, despite familiar issues rearing their heads for Scotland in 2013.
SOUTH AFRICA: Heyneke Meyer's plan seems to be coming together nicely but the key word in all the Springboks' accomplishments in 2013 is 'second'.
NEW ZEALAND: The All Blacks of 2013 could arguably be hailed as the greatest team of the professional era.
WALES: For all the combined talents of the national side, Welsh rugby finds itself in something of a predicament at present.