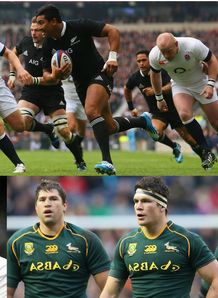 England and New Zealand produced the game of the month at Twickenham last Saturday, with the World Champions sneaking past the hosts by a short head, while Wales, Australia and South Africa recorded comfortable victories.
Planet Rugby caught up with our resident Expert Witness, former England flanker Peter Winterbottom, to examine the performances and progress of the teams on view.
"What a great weekend of rugby," noted Winterbottom.
"We saw some very impressive displays this weekend; Wales, comfortably seeing off a decent Argentinean effort; South Africa, huge in physicality, dominating the Scots in awful overhead and underfoot conditions, and an most unusual game over in Dublin where Australia were at times brilliant, but with much controversy both on and off the pitch.
"But the England v New Zealand game was a level apart, and it's frustrating for an Englishman that we produced our best display and lost, but more importantly, that we were not able to close the game out when we had a golden opportunity to beat the best in the World.
"The All Blacks are a complete side, make no mistake. I have great respect for them. They have quality in every position, no real weaknesses, and most importantly, a defined methodology for winning Test matches.
"People talk about their skill levels, but I believe their absolute strength is their process of simplification; they know exactly how to find a method to win under pressure, and they execute that time and time again. They understand their own gameplan better than any side in world rugby, and that is based upon reference points of winning (and occasionally losing), built up in a period of four or five years playing Test rugby together.
"Do not get me wrong; England's forwards, led by outstanding displays from Dylan Hartley, Billy Vunipola and Courtney Lawes, really tested them, and indeed, probably had the better of the exchanges up front, although Kieran Read produced an absolute masterclass of backrow play, and was head and shoulders the best player on view.
"But I think that once the All Blacks decided not to wrestle with the big guys, but to get them down on the floor and out of the game as quickly as possible, then the difference between the back lines was so great that New Zealand were always going to emerge victorious," explained Winterbottom.
"As well as the English pack played, our half backs and three quarters were light years behind the Kiwis in terms of vision and execution.
"When your forwards are creating a platform like that, then it cries out for the half backs to exploit the fringes with snipes around the base and inside passes from the fly-half. Simple rugby, and devastating if executed well, but annoyingly, I did not see either option forthcoming, which was very disappointing.
"Our back division, with the notable exceptions of the emerging Billy Twelvetrees and the consistently superb Mike Brown, were impotent.
"We showed no ability to exit our 'red zone' in the last 20 minutes, as both Farrell and Twelvetrees were put under immense pressure. That, combined with the failure of the line-out during that period, cost us the match.
"It's time to weed out some of the deadwood across that backline, and look to develop talent such as Anthony Watson, Luther Burrell, George Ford and Jack Nowell in our lead up to the World Cup. We have seen average displays from Joel Tomkins, Chris Ashton and a couple of others. Stuart Lancaster needs to be brutal in selection to develop a backline to match the forward power over the next two years, otherwise we will struggle to get out of our group, let alone challenge to win to trophy," commented the Lions flanker.
"But England took a huge leap forward. We have the pack to test the best, and, with selectorial changes and tactical tweaks to the back division, we are on the way to producing a very competitive side. What does impress me is the culture and commitment Stuart Lancaster has imbued in the players.
"With regards to the All Blacks, how much more can you say about this team? Again, Read was magnificent and at the heart of everything for 70 minutes; Julian Savea takes lines and support options that are simply out of the reach of the England back three, and Ma'a Nonu delivered an executioner's blow with amazing panache under extreme pressure. It doesn't matter what you throw at them, they'll find a way to win.
"They are, quite simply, a class apart."
Over in Murrayfield, howling wind and rain from above, and an atrocious pitch surface below, combined to produce testing conditions. South Africa dominated both possession and the forward battle and Winterbottom believes that Scotland were fortunate not to concede more.
"You always know what you're going to get from South Africa. Power rugby, down the middle of the park," he observed.
"Led from the kick off by the huge Willem Alberts, they didn't disappoint, but they had so much possession and set piece domination that perhaps they'd want to have scored a few more points.
"Scotland had the most dismal day at the line-out. I think it was 30 odd minutes until Jim Hamilton finally stole one? And even then, the way the Springboks changed the point of attack from their catches was text book. The Scots conceded two scores by simply driving too early to defend, and allowing the South Africans to roll around the side of the maul, thus changing the angle of the drive, and pretty much going over without much challenge," explained the former Lions openside.
"And when the replacements came on, South Africa were bringing on battle-hardened Test performers such as Ruan Pienaar, Bismark du Plessis and Eben Etzebeth. That trio are all world class players, and one could argue the Boks were even stronger after their introduction!
"I fear Scott Johnson will be scratching his head wondering how he can get a performance out of the Scots. The introduction of Duncan Weir, save for a couple of shocking handling errors, showed a more expansive ambition, but quite simply, they were outgunned in most areas, despite committed displays from Hamilton and Ali Strokosch.
"I would add that the pitch issues continue to annoy me and the IRB and SRU need to act with a duty of care. With the torrents of rain coming down, the pitch surface became downright dangerous, and it's a miracle that only Francois Louw came off with a serious knock.
"You cannot expect world class athletes to perform safely on a surface like that."
"It's like asking Usain Bolt to record a career best on quicksand!" quipped Winterbottom.
In Cardiff, Wales took the sting out of Argentina's early ambition with a superb defensive display. Leigh Halfpenny's boot again broke opposition hearts as the Welshman clocked up another 20 Test points. Winterbottom believes Argentina look a tired team despite their early sparkle.
"If you look back at both the England Test and the Rugby Championship match against Australia, Argentina simply faded after good starts. They played with a little more ambition this time around, but Wales were simply too good," observed the former Harlequin.
"Both teams showed good tempo early in the game, with some great offloading, and a wonderful piece of skill from Juan Leguizamon to set up attacking positions for Argentina. But errors cost them, and Wales were simply better organised. The line-out that set up George North's score was absolutely classical rugby, and Mike Phillips tested the fringe defence in a way that England could learn a lot from.
"The Welsh back rower Toby Faletau always impresses me, and he finished off a move he started with great vision and skill. He's a world class eight and always industrious.
"My only question mark over Wales is, despite their ability to deliver good performances against a lot of sides, they still have yet to consistently overcome the 'big three' Southern Hemisphere sides at home. It's very frustrating, because the British and Irish Lions series proved they have the quality, they just don't seem to have the self-belief to deliver the knockout punch."
Lastly, we turn our attention to Dublin. The four-try Wallabies put Ireland to the sword, led by a wonderful display of back row skill from openside flanker Michael Hooper, and some touches of brilliance from the mercurial Quade Cooper.
"I love to see a great seven doing the hard yards," laughed Winterbottom.
"Hooper is a class act and we've seen him produce performances like this before. He's a real scrapper on the deck, and the Irish failed to get to the ruck area early enough, and to drive him up and off the ball. He had a field day," he explained.
"Ireland paid the price of getting too narrow in defence. I believe Hooper's dominance at the breakdown forced them to throw too many players in, and that left a lot of holes around the outside of the drift.
"And what of Quade Cooper? I know he has his critics, but a lot of players could learn from how he attacks the gainline, and how he is prepared to challenge the fringes. His 'feint and go' was absolutely sublime, and the way it silenced the Dublin crowd said it all," said Winterbottom.
"It wasn't all doom for Ireland; Sean O'Brien put in a great shift and was always powerful. But once Sexton had departed, Ireland struggled in their game management, and Hooper's breakdown dominance was always going to create issues."
Off the field, the Wallabies again made the headlines, as coach Ewen MacKenzie was forced to suspend six players for breaking curfew rules. Winterbottom confessed to being surprised in this further behavioural lapse by Australia.
"One of the features of Australian sport has always been professionalism. I know that MacKenzie asked his own team to set a code of ethics and standards, so when they are broken by experienced players such as Adam Ashley-Cooper, I am astonished. Ewen, a guy I know well, had to act. This is not the first time he's been let down by the more senior men, and it's very unusual to see Australia behaving like this."
That is it for this week's Expert Witness. Next week, we will give our verdict on the home nations progress over the month, and also follow New Zealand's trip to Dublin as they attempt to make history with 14 from 14 for the year. Our thanks once again to Peter for taking the time to express his views.
Peter Winterbottom was speaking to James While.
A world-class flanker, Peter Winterbottom won 58 caps for England and seven for the British and Irish Lions. An iconic figure in the number seven shirt, his intelligent support play and hard tacking were features of his game. Peter now runs the Rugby Marketing Communications Agency Full Contact