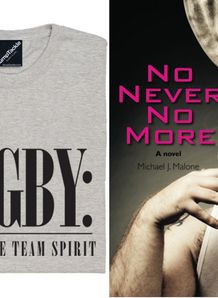 Correctly predict the scores of this weekend's Super Rugby play-offs and you could win yourself a prize!
Will the prizes ever stop flowing? Not any time soon!
This time we're giving away this cool T-shirt from Dump Tackle clothing AND five copies of a new novel.
"No Never No More" is Michael J. Malone's uproarious spin through the shadowy streets of New York's Alphabet City and the unforgiving pitches where the novel's fictional 'Village Vipers' play rugby.
So, how do you win? You'll have to follow the instructions in this Friday's edition of our FREE newsletter Crooked feed.
This week's edition includes a preview of the Super Rugby play-offs and a review of Malone's book.
What? You're not a subscriber? That's mad! To sign up to receive Planet Rugby's fortnightly email, featuring opinions, news and competitions, all you have to do is click here.
Don't be afraid, we would NEVER share your details with anyone else!