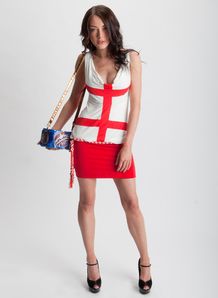 As interest in the women's game increases, we have a special competition for female players, fans... and their partners!
Dutch brewer Bavaria has 100 super-stylish England dresses, sporting the cross of St George, to give away in this exciting female-focussed comp.
The dresses were designed by Dutch TV personality and model Sylvie van der Vaart, wife of ex-Tottenham footballer Rafael van der Vaart. The Dutch orange version is most memorable for being worn by the 20-30 ladies ejected from the 2010 football world cup as part of Bavaria's very successful Guerrilla marketing campaign.
And don't worry lads, the brewer is happy for you to enter, but would prefer you gave the prize as a gift, rather than don the dress yourself...
To be in with a chance of winning, answer this simple question:
Who is the current captain of the England Women's Rugby team?
A) Hannah Gallagher
B) Harriet Mills
C) Sarah Hunter
Send your answer to: competitions.planetrugby@teamtalkmedia.com. Don't forget to include your post address! One size fits all.
Entries close at 12-noon GMT on Tuesday, March 12.
Get your answers in as soon as possible and keep an eye out for your prize. Bavaria will try and get the dresses out before the end of the Championship.
If you're a winner and plan on wearing your dress to cheer on any of the English teams next weekend, Bavaria would love you to post a photo on their Facebook page - be nice; they might send you some beer.