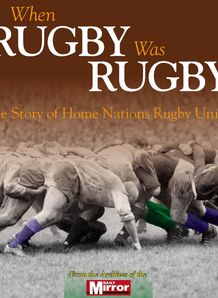 We're giving away three copies of When Rugby was Rugby: The Story of Home Nations Rugby Union which was released on Thursday.
When Rugby was Rugby: The Story of Home Nations Rugby Union is truly a must for any rugby fan. From the very invention of the sport at Rugby School in the 1820s, this book captures the blood, sweat and tears of each of the Home Nations in their desire to be the top team in world rugby.
Produced in conjunction with the Daily Mirror's extensive picture archive, these beautiful photographs give the book a unique insight into the passion and pain of Nation against Nation.
It also profiles some of the legends that have worn their countries colours with pride over the years, including the likes of Gareth Edwards, Martin Johnson, Gavin Hastings and Jack Kyle.
So how do you win a copy? You'll have to answer the question in Friday's edition of our FREE weekly newsletter, The Crooked Feed.
This week's edition features the findings of new research about the global fanbase of rugby including who has the most fans and the most hard-core supporters.
Not a subscriber? Tut-tut! All you have to do is click here and sign up to receive our weekly email.
Good luck!
If you're not lucky enough to win a copy, When Rugby Was Rugby is available from all good bookshops and direct from Haynes at www.haynes.co.uk or by calling 01963 442030, priced £20.00.
When Rugby Was Rugby:The story of Home Nations Rugby Union
Neil Palmer
Foreword by Mike Burton
Publication: 7th February 2013
Format: Hardback
RRP: £20.00
ISBN: 9780857331878