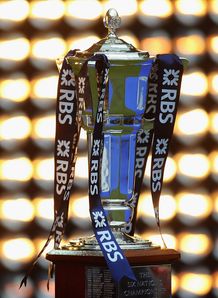 The Six Nations countries are reportedly considering a proposal to include a bonus-points system in future tournaments.
The world's oldest international championship is the only major tournament not to include bonus points for scoring four tries or losing by a margin of seven points or less as in the World Cup and the southern hemisphere's Rugby Championship.
The Six Nations member unions have long resisted change, insisting that the long history and success of the tournament were proof that following modern benchmarks was not necessary.
However, according to the Observer, a consultation paper has been prepared for the six countries to consider bringing the competition in line with world standards.
Under the traditional system teams get two points for a win and one for a draw as opposed to four for a win and two for a draw under the bonus-point method. The bonus system reduces the chances of teams finishing level on points (they are currently separated by points difference) and increases the potential permutations on the last day, which is attractive to commercial partners.
The bonus point system was first introduced in 1995 in New Zealand to encourage attacking play throughout a match and to discourage repetitive goal-kicking.
France's domestic leagues are an exception to the global standard. Instead of a bonus point being awarded for four tries, Top 14 and ProD2 teams must win by scoring at least three more tries than their opponents to earn an extra league point.
Those opposed to the bonus-point system argue that it would make it possible for a team to win the Grand Slam yet finish second in the table if their closest rival claimed maximum bonus points. It would also be possible for a team that was whitewashed to avoid finishing at the bottom of the table.
England are believed to be one of the unions in favour of a debate on the proposal.
"We have resisted the change for the past 10 years, but there is pressure to join the mainstream, not least from commercial partners, because it would potentially increase permutations in the table at the end of the season," an RFU member told The Observer
"But the bottom line is that it is the system that people have become used to."