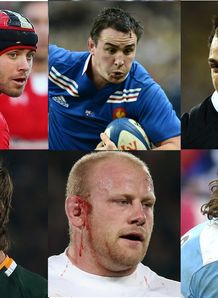 It's that time again! With that New Year's Day hangover looming large on the horizon, it's time to reflect on the year gone by.
Power to the people! Planet Rugby readers are never shy to share their opinions and - as has become our tradition - we're giving you the chance to make your nominations for the Planet Rugby Readers' Team of the Year.
Remember, this team is supposed to represent the whole twelve months of 2012, not just the end-of-year Tests.
In each position try to consider the most influential player for his team(s) over the course of the year rather than the player you consider the best in that position on current form.
For example, Bryan Habana missed the November Tests but was phenomenal for most of the year. The same goes for Six Nations Player of the Tournament Dan Lydiate.
The Six Nations seems like an age ago, but it's important! Super Rugby / Heineken Cup / domestic club form counts too!
You've got plenty to think about so we're giving you until 12-noon GMT on Friday, December 14 to make your selections.
How do you nominate your team? It's simple: Use the space below to list the XV players that you think were the standout performers in 2012.
(In some countries - like South Africa - the openside flank wears 6, in most other countries he wears 7, so we'll use that convention.)
Use the following format:
15 Fred Full-back, 14 Robert Right, 13 Oliver Outside, 12 Ian Inside, 11 Luke Left, 10 Francois Fly-half, 9 Sam Scrum-half, 8 Norman eight, 7 Oscar Openside, 6 Bill Blindside, 5 Lance Lock, 4 Larry Lock, 3 Tim tighthead, 2 Harry Hooker, 1 Leon Loosehead.
DON'T give us explanations for your selections, just the fifteen names please.
In order to make the counting process possible, we will only consider teams sent in the correct format!
Save the banter for when the final team is published, just send us your nominations for now.