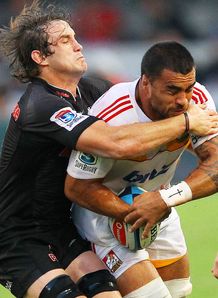 As we head closer to Saturday's Super Rugby final, it's time to size up who will come out smiling in the individual battles.
Matches are won and lost through moments of brilliance or stupidity and these characteristics are sure to feature in the most pressurised 80 minutes of this year's competition.
Planet Rugby's David Skippers takes a look at each of the direct match-ups which will have a bearing on the end result.
Robbie Robinson v Patrick Lambie
Robinson enjoys attacking from the back and his running game is his main attacking weapon. Lambie returns from injury after a three-week absence and while he's usually one of the Sharks' main attacking threats he could be rusty after his lay-off. Don't be surprised if he is replaced before the end of the match. Both are fairly safe under the high ball and aren't soft on defence.
Verdict: Robinson
Tim Nanai-Williams v Louis Ludik
Nanai-Williams is keeping Lelia Masaga on the replacements bench and that is quite an achievement in itself as Masaga is one of of the biggest dangers on attack for the Chiefs. Nanai-Williams is an elusive runner himself who can tear the meanest defences to shreds. Ludik was one of the Sharks' star performers last weekend and is a big threat when chasing up-and-unders. While this is an undoubted strength, Nanai-Williams will not be daunted as he has previously played at full-back.
Verdict: Tied
Andrew Horrell v JP Pietersen
Horrell has done well at outside centre and full-back this season and always looks dangerous on attack. Running off Sonny Bill Williams' shoulder is sure to create several try-scoring opportunities, but he will have to be at his very best against Pietersen who is amongst the favourites for the player of the tournament award. The Bok flyer is the biggest danger in the Sharks back-line and if the Chiefs can keep him quiet, they will go a long way to securing victory.
Verdict: Pietersen
Sonny Bill Williams v Paul Jordaan
This will be SBW's last match for the Chiefs and he'll be keen to put on another memorable showing for his supporters. The big All Black has been one of the stars of the Chiefs' campaign and his combination with Cruden will once again be crucial for the home side. So much has been said about his attacking abilities - especially his offloading skills - but a drawback in Williams' game is his knack of putting in shoulder charges when under pressure on defence. Jordaan is fresh out of the U20 ranks and going up against Williams in such an important match must be his biggest challenge to date. He is a danger with ball in hand but his performance on defence will be closely scrutinised.
Verdict: Williams
Asaeli Tikoirotuma v Lwazi Mvovo
Tikoirotuma has proven that he can make the most out of limited opportunities and he's one of the best finishers in the tournament. His main attribute is his speed, but Mvovo is no slouch and possesses plenty of pace himself. Mvovo did well under the high ball against the Stormers last weekend and is especially dangerous when in full flight.
Verdict: Mvovo
Aaron Cruden v Frederic Michalak
Along with the battle at the breakdown, this match-up could decide the outcome of this fixture. Cruden's form in this year's tournament has been outstanding and if he can get the best out of his outside backs, the Chiefs will have half the battle won. An area of his game which has improved considerably since his move from the Hurricanes is the consistency of his performances. Whereas previously he blew hot and cold, Cruden has consistently delivered. Michalak started the early rounds of the competition on the bench, but has forced his way into the starting XV as the season progressed. His return to top form has coincided with the Sharks' resurgence and he will be keen to go out on a high as he is set to join Toulon in France after the final.
Verdict: Cruden
Tawera Kerr-Barlow v Charl McLeod
Kerr-Barlow has been one of the finds of the season. His crisp service and keen eye for the gap has made him one of the Chiefs' main strike weapons. He also has the ability to suck in defenders around the fringes of rucks and mauls, and in doing so creates plenty of space for his team-mates to exploit. McLeod has been a steady performer who does well to bring the best out of his fellow players, especially his forwards. He's also solid on defence and impresses with his tactical kicking.
Verdict: Kerr-Barlow
Kane Thompson v Ryan Kankowski
Thompson is one of the unsung heroes of the Chiefs' campaign. Solid if not unspectacular, his grafting allows the team's more flash players to weave their magic on attack. Kankowski has come to the fore with some superb performances in recent weeks and is the complete opposite to Thompson. The Springbok number eight enjoys the open spaces and is devestating in open play. He also links well with the Sharks' backs and possesses plenty of pace.
Verdict: Kankowski
Tanerau Latimer v Marcell Coetzee
Latimer has been in superb form throughout the tournament and kept new All Black sensation Sam Cane out of the Chiefs' starting XV for the business-end of the competition. Although he's a superb forager he will have to be at the top of his game to get the better of Coetzee, who's form in this year's competition earned him a place in the Springbok line-up. With his powerful running style, Coetzee is an athletic loose forward who is very accurate on both attack and defence - a very valuable member to the Sharks.
Verdict: Coetzee
Liam Messam v Keegan Daniel
This has to be the toughest one to call as Messam and Daniel have been superb throughout this season. After missing out on selection to the All Blacks and Springboks' World Cup squads last year, Messam and Daniel have both played like they've had points to prove in 2012. Messam's superb effort in the semi-final was arguably his best outing of the season, while Daniel's inspirational leadership has guided the Sharks all the way to the final.
Verdict: Tied
Brodie Retallick v Anton Bresler
Retallick has been one of the best locks of the tournament and got the better of his All Blacks counterparts Sam Whitelock and Luke Romano in last weekend's semi-final. His line-out play is superior to Bresler's who has been one of the Sharks' unsung heroes in recent weeks. A strong scrummaging lock, Bresler impressed with his high work-rate in the semi-final win over the Stormers - especially on defence.
Verdict: Retallick
Craig Clarke v Willem Alberts
This battle pits two players with contrasting styles against each other. While Clarke is a workhorse who does most of the donkey-work in the Chiefs pack, Alberts is a player whose ball-carrying ability is what gets the Sharks on the front-foot. Clarke's leadership is also crucial to the Chiefs' success and he marshalls their line-out calls well. Bok flank cum lock Alberts has come to the fore with some powerful performances in the second row, and has impressed especially in the tight-loose and on defence.
Verdict: Tied
Ben Tameifuna v Tendai Mtawarira
20-year-old Tameifuna has been a revelation this year, holding his own and even getting the better of far more experienced opponents at scrum-time. Against Mtawariria, he faces an acid test. The Springbok loosehead has seldom taken a step backwards to anyone this season. Mtawariria's holds a significant edge on Tameifuna in general play as he is always a danger with ball in hand and rock-solid when making tackles.
Verdict: Mtawarira
Mahonri Schwalger v Bismarck du Plessis
Both these players enjoy the physical aspect of the game so don't be surprised if there are some big collisions in the final. An area of concern for the Chiefs is Schwalger's inability to find his jumpers at the line-out... especially when under pressure. Du Plessis seldom has such problems and is not known as the world's best hooker for nothing.
Verdict: Du Plessis
Sona Taumalolo v Jannie du Plessis
Any front-row battle is always intruiging as it is one of the few areas in the game where you constantly go into direct confrontation with your opponent. This battle pits two experienced campaigners against each other. Du Plessis has been consistent throughout the tournament but his penchant for conceding penalties has been a worry. Taumololo, however, is in the best form of his life and one of the real stars of this year's competition. He stands his ground in the scrums and is a handful to the opposition's defence - particularly when he's within five-metres of the try-line.
Verdict: Taumalolo
Final score: Chiefs 6 Sharks 6