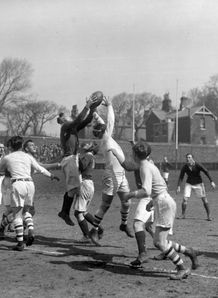 We're a little excited about the Olympics officially kick-off this weekend, although we're not quite sure what we're excited about. Which is more or less how it goes with the Olympics - for athletics fans it is the ultimate sporting event, but for those of us who prefer ball sports the Games are no more than a curiosity.
And yet it was not always thus, and it will not always be thus. If we delve into the history books we will find that rugby and the Olympics have been intertwined before. And if we look into the future, it is not inconceivable that their coming together in Brazil in four years' time could have an effect on the 15-man rugby union game over the coming years.
Let's look back first though, because we recently came across a lovely quote by Baron Pierre de Coubertin, the founder of the Modern Olympics. De Coubertin was 25 when he visited Rugby School on a tour of English public schools and universities in 1888 and found himself inspired by the school's headmaster, Thomas Arnold, and his approach to athletics in education. In rugby, De Coubertin saw an ideal sport for infusing children with important characteristics through sport.
"What is admirable in football (rugby), is the perpetual mix of individualism and discipline, the necessity for each man to think, anticipate, take a decision and at the same time subordinate one's reasoning, thoughts and decisions to those of the captain," he wrote in an essay called 'Notes about Foot-ball' eight years later. "And even the referee's whistle stopping a player for a 'fault' one team mate has made and he hasn't seen, tests his character and patience. For all that, football is truly the reflection of life, a lesson experimenting in the real world, a first-rate educational tool."
De Coubertin would introduce rugby into a host of Parisian schools, and although the sport was not included in the first Olympics in Athens, they were added to the programme for the second Olympiad and featured in the Games held in Paris in 1900. It was so well received that the game between Great Britain and France, who won 27-8 and would go on to take the gold medal, was watched by 6,000 people - the largest crowd at the Games.
Rugby would feature again in London in 1908, Antwerp in 1920, and Paris again in 1924, with the United States winning the last two installments. Earlier this month, no doubt in an effort to promote the game in the States, the IRB inducted those American sides into their Hall of Fame.
However when De Coubertin stepped down as the President of the IOC in 1925, the organisation fell into the hands of Count Baillet-Latour, who was no rugby enthusiast. A number of team sports were scrapped at the 1925 Olympic Congress, with rugby amongst them in spite of its pulling power - more tickets were sold for rugby matches at the 1924 Games than for track and field.
It took more than 80 years, and plenty of lobbying by the IRB in the 1990s, for the decision to be reversed. It also required the expanding popularity of the Sevens game, and the IRB's promise to drop the Rugby World Cup Sevens so that the Olympics would be the premier event in international Sevens.
Sevens is already on the rise in many countries, and although it's still mostly seen as a bit of fun, the prospect of an Olympic medal is about to make it a whole lot sexier. It will be fascinating to see what impact that has on the 15-man game.
John Kirwan, the new Blues coach, recently told The Guardian: "What I'd be saying to myself if I was a young man would be: 'I want to win a World Cup and I want to win an Olympic gold medal.' The real superstar in 20 years' time will be the player who can do both but there won't be many of them. They'll be the equivalents of Ronaldo or Messi but, in the main, there'll be two distinct types of athlete. America will be the interesting one. I don't think America will concentrate at all on fifteens. They have all these athletes, men and women, who, if they don't get drafted after leaving college, don't do anything. They will be a big tool for Sevens."
One can't help but wonder what someone like Sonny Bill Williams would make of the idea. A large portion of rugby players in the 15-man game couldn't cut it in Sevens, but Williams' incredible athleticism means he would be capable of accomplishing the 'superstar' status that Kirwan expects in 20 years. If it's not about the money, as Williams has claimed, then why wouldn't he want to target an Olympic gold medal in 2016?
For those of us watching, the Olympics might upgrade our interest levels in four years. The resulting lift will give Sevens a boost in all areas, including income, and make it a more attractive proposition to players. As Kirwan has noted, the Sevens game is also the likeliest to spread rugby union to new territories, and its involvement in the Olympics will accelerate that. It's unlikely that we'll see the same effect as cricket, where the Twenty20 game has had an obvious adverse impact on the more traditional forms, but this will certainly be the last Olympics that we treat as a passing curiosity without any consequence for the game we love most.
By Tristan Holme
This article is an extract from Planet Rugby's weekly newsletter, The Crooked Feed. To sign up to receive our free weekly email click here.