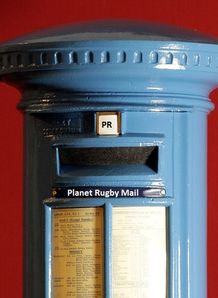 Planet Rugby readers are never short of an opinion and our mail box is seldom empty. This week a reader shares his thoughts on what the English and French could learn from each other.
Got an opinion? We'd like to hear it, so why not send us an email HERE.
Franco-English marriage of Rugby Cultures could close North-South gap
By Mike Dolan
England's football team crashed out of yet another international tournament recently, and for once, the country has embraced the idea that technically England are miles behind the continent. There was no shortage of spirit, their set pieces were strong, but their ability on the ball was desperately short of their Italian counterparts. Swap the word Italian with either South African or southern hemisphere and that would be a fairly accurate dissection of the recent summer tour of the England Rugby team.
The cognoscenti will immediately look to the SANZAR nations for an answer, or a model to replicate them to be more precise. However, the answer may only be across the channel, where the handling skills and panache of 'les Bleus' have mesmerized the rugby community worldwide for decades. It is interesting that it is the mental and physical toughness of English players that is craved by French clubs as the marriage of French flamboyance with English attrition are key ingredients in creating rugby giants in the Top 14. In which case why could this marriage not be arranged at grass route level?
The French rugby system is structured in a way that gives young players more time to develop physically. Top Clubs don't have second teams; they continue the age group system at U19, U21 and U23 levels. This allows young players more time to develop their core skills without a pressure to be packing bulk by the time they are eighteen.
This softens the hard-line gym culture from the age of 16 that exists in England where at times we are guilty of a 'bigger is better' attitude, which has paid dividends at age group levels where England have consistently dominated in Europe and consistently reached Junior World Cup Finals through their muscle and athleticism. However, this has at time left the senior national side short, as was the case in South Africa with some players lacking the skill, technical ability and awareness to outplay opposition on a physical par.
The result at lower level French rugby is that players are released from the physical demands and results based shackles of men's rugby and given a freedom to demonstrate their skill set against their age group peers. What a joy it must be to play in a tight game where you are able to play what you see, even from your own line, without a fear of having your head blown off in the dressing room. During my time with the 'Reichels' U21's at Aix-en-Provence rugby club, I once witnessed a hooker attempting a drop goal from the halfway line in an U19's match against their Perpignan equivalents. The absurdity was not the act itself, more the accepting Gallic shrug of the shoulders from coaches and players at the result of the attempt - a horrible slice that sent supporters fleeing for cover like victims of an artillery assault (see Jaco van der Westhuyzen's attempted drop goal against Australia in 2006 for a visual reconstruction).
Whilst an early introduction to men's rugby certainly helps players to adapt physically, if they can't experiment when they are 18-year-olds playing against people of a similar size physically, then when will they ever learn the true limits of their skill set?
Players like Ford, Wade, May, Burns, Daly and Cipriani - though it might be too late for the latter - need to be given a chance to try things without each move they make being overly scrutinised. You have to wonder whether the likes of Parra, Fofana, Poitrenaud, Medard or Clerc would ever have played international rugby had they been born in Leicester rather than France.
That's not to say France don't have issues of their own, but they were perhaps the only northern hemisphere team technically capable of almost beating the All Blacks, in New Zealand, in a World Cup Final.