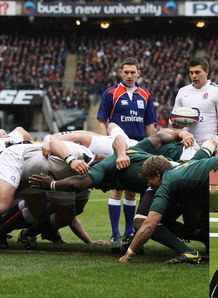 In the first of a series of exclusive columns for Planet Rugby, former British and Irish Lions prop Phil Vickery examines England's chances in South Africa.
With England embarking on what many would call an 'old-fashioned tour' of South Africa, the Raging Bull will be sharing his thoughts on the three-Test Series over the next month.
Phil Vickery is an Official Ambassador of Wooden Spoon, the leading Rugby Charity. 'Spoon' is a children's charity founded in 1983, dedicated to helping disadvantaged children and young people across the British Isles live happier, richer lives. 'Spoon' partner with the UK rugby community, and during our first 25 years, over half a million young people benefited form over £18 million of charitable support. WS is proud of its legacy, the work it does, and the ambitious plans for the future. Visit www.woodenspoon.com for further details.
Whenever I think back on my career, tours and matches against South Africa were always the biggest physical challenge of them all. You knew exactly what you were going to face; big route-one runners, a massive emphasis on the set piece, the toughest of playing conditions - altitude and rock hard pitches; all underpinned by fanatical supporters that manage to be both incredibly partisan but yet welcoming and warm at the same time!
England will go to Durban on Saturday and be welcomed by deafening noise, blinding colour and absolute vibrancy. Kings Park, with its huge, almost vertical terraces, is a cathedral of rugby and it's there that the fans worship the preachings of their beloved Bokke, the anointed Gods of their national sport. It will be a huge experience for those players who have not toured South Africa and the players need to embrace the atmosphere and use it to their own benefit if they are to succeed.
Above all, South Africa value hard rugby. Every side knows their game plan - a powerful scrum, an imperious line-out, raking touch kicks and a physicality unmatched anywhere in rugby; to win you have to match them in every department and never, ever back down. Self-belief is key and the character of every player on tour will be tested to the maximum in this harshest of rugby environments.
Onto specifics, Stuart Lancaster has, so far, shown a delightful pragmatism in his new role. The Six Nations campaign was a step forward in many people's eyes but yet I feel it safe to say that England are still not sure of exactly where their benchmark is with their new side. This tour gives Stuart and his charges the opportunity to create that benchmark and to measure exactly just how far they have progressed. Results, whilst of course important, are secondary to understanding where England stand, and which players are capable of making the step up to international rugby, so we should be in for a very intriguing series.
South Africa too are going through change. Gone are some of the enforcers of recent times. Losing three icons (and over 300 caps!) of Bokke rugby in Bakkies Botha, Victor Matfield and John Smit would tax any international team, but when you also consider how much leadership that triumvirate offered the Springboks, you realise that they find themselves in a similar position to England around 2004/5 when 'once in a lifetime' leaders like Martin Johnson, Neil Back and Richard Hill were forced to leave the international arena. You cannot replace players of that experience and ability overnight.
Lancaster has been true to form and been entirely loyal to those that have performed. Two changes are forced by injury with Tom Johnson's excellent form for Exeter Chiefs being rewarded with selection on the blindside flank, with Quins' Joe Marler, also a stand-out in the Premiership, replacing the injured Corbisiero on the loosehead berth.
I have no doubt about Marler's ability and contributions around the park; He is an aggressive mobile prop and will learn quickly. Yes, he was put to the sword in the tight by the outstanding Dan Cole in the Premiership Final, but Marler came back strong and hung on at the end, a mark of a good prop. I think he will do well, especially with the destructive Cole in the same team as him, and I also have great faith in benchman Paul Doran-Jones, a real scrummaging technician who brings competitive ability either side of the scrum.
I am slightly concerned about England's line-out options, however. The injured Tom Croft is our go-to man, and, at a relatively lightweight 6' 6", he's easy to get up high in the air. England have three backrowers all of whom are 6' 3" or under, and none would be considered outstanding jumpers. This also reduces the number of 'blockers' we can sling up on the opposition throw. . Going in with two primary options is a risky strategy, especially in a land where the set-piece is almost a religious ceremony! I hope that Parling and Botha continue their success, but I do believe this could be an area of concern.
Elsewhere, at 15, Michael Brown's form for Quins means a re-shuffle in the back three, although I feel sure they'll interchange quite a bit, especially to allow Foden to counter from the high kicks, and I'm pleased that Lancaster has continued to keep one eye on the future with the retention of Owen Farrell over the experienced Toby Flood at fly-half.
Well, that's pretty much it for my opening thoughts, other than to say I'm delighted to be sharing my views over the forthcoming weeks, and hope that all of the players touring will embrace every moment of this rugby-mad country and come back better, tougher and more determined for their experience. I know that I always did!
Tot siens!
Vicks.
Phil Vickery MBE won 73 Test caps for England and five for the British and Irish Lions. He was part of England's 2003 World Cup-winning team and captained the side to the World Cup Final in 2007.