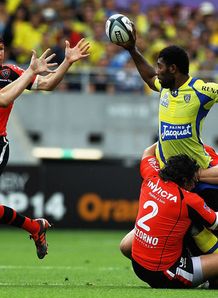 This week we will mostly be concerning ourselves with Barbarians, anti-climaxes and Test season thoughts...
After three entertaining matches this week against England, Ireland and Wales, the Barbarians go dormant again until they provide a warm-up for Warren Gatland's touring Lions next year.
But kicking off this week's column is an answer to a question four different people have asked this week: why the name?
The idea for the team was conceived by one WP Carpmael in 1890, presumably over some form of pie and pint, in a Bradford restaurant. Back in those days, rugby players in the UK packed up for the season at the end of March (so that the backs could go and play sevens while the forwards worked on important things like weight for a few months), but Carpmael's idea of gathering together a 'best of the rest' team to take on the leading clubs of the lands garnered instant enthusiasm.
The first tour in 1890 was not quite the all-comer concept Carpmael wanted. The team - at this point known as the Southern Nomads - toured England's northern counties winning its first match against Hartlepool Rovers 9-4. It was made up mostly of players from the Blackheath club.
The concept grew and grew, particularly with the Easter tour of Wales and then, following World War II, the concept of the Final Challenge, the last match of a tour for visiting international teams. the most famous of those is, of course, the 1973 match against New Zealand which started with that try from Gareth Edwards and continued at a similar pace.
But there is very little to explain why the name started or stuck. Some academics and classicists say the club assumed a name "dignified by the famous victory of Arminius over Varius and his legions in Germany some two thousand years ago," an unlikely reason but at least one incorporating ideals of the Barbarians' all-out attacking style and homeless wandering nature.
But the most likely theory is that stated by former President Emile de Lissa, who said that: "the name Barbarian was chosen in defiance of those who would style all rugby players as just that," a reason which seems particularly likely given the strict codes of on-field behavioural conduct and Carpmael's founding aim: "that the Barbarian Club should be absolutely cosmopolitan with the aim of spreading good-fellowship amongst all rugby football players." Subsequently, the Right Reverend W.J. Carey (former Bishop of Bloemfontein and an original member) coined the more official and current-day Barbarian motto: "Rugby Football is a game for gentlemen in all classes, but for no bad sportsman in any class."
---
Rugby in most northern lands is done and dusted, but the French club season is still lurching towards its climax in mid-June.
Climax? Not for the first time, the two semi-finals failed to produce a single try between them. All four teams - in fairness to Toulon and Clermont some of it was down to the weather - strung walls of players across the pitch in defence, adopted a rigid territorial kicking game and for the large part picked and drove and waited for the penalties to come.
While the rugby was at least disciplined, perhaps the most disturbing aspect was to note how tired some of the players seemed. But then again, who wouldn't be tired and stale after a World Cup, 26-game league season, at least six games in the Heineken Cup, the Six Nations and a couple of playoffs? And lest we forget, a couple of June Tests on the horizon.
Yet there are mutterings in France of turning the Top 14 into the Top 16 again? Someone must have a screw loose.
About four years ago, all were in agreement that there was too much rugby. Since then all we've had is more play-offs, more Tests, extra teams to the Tri-Nations and Super Rugby (and an extra few rounds of fixtures to the latter too). When does it stop?
---
Test predictions:
South Africa v England - John Smit might have a point: England are better prepared than South Africa. They might also be a little fresher and more stable, having had longer with the new coach. They also seem to have a little more self-belief. Will that be enough? Don't bet against a winning start for Stuart Lancaster...
Australia v Scotland - An experimental Australia side taking on a Scots side feeling somewhat down on their luck. But as adhered to above, the fact that most of the Aussie XV was in Super Rugby action at the weekend will see the Scots enter the game distinctly fresher. That freshness probably won't be quite enough though.
Australia v Wales - That freshness will be enough here though. Wales may be short one or two important players, but the squad looks settled, unified, happy with the rugby it's playing and most of all, up for it. Contrast that to the self-doubt sweeping Australian rugby after a miserable Super 15 campaign and you've got a recipe for a Welsh success.
New Zealand v Ireland - Little contest. Tired and stale Irish on their way to the World Champion All Blacks, with those black jerseys now chock-full of players who have been patiently waiting their turn for a couple of years. It won't be a massacre, but the All Blacks should storm home.
Argentina v Italy - Two teams rebuilding and little serious form to go on. But it will be as doggedly-fought and tight as it always is, likely to be decided by the goal-kickers. Argentina have the better of those...
Loose Pass compiled by Richard Anderson