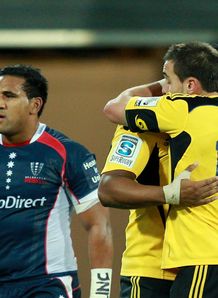 It is that time of the week again when 'Orrible Punt arrives in the Planet Rugby prediction hot-seat to give his Super Rugby calls. Let's get to it.
We arrive at the final round before the June Test window and with the Force, Cheetahs and Reds on a bye, only six games are on the schedule.
Remember you can contact Russ with all your comments and questions on Twitter - @rpetty80. Also make sure to check out his in-depth Blog.
Click here to compare odds on Rugby Union with Oddschecker.com!
The Crusaders reacted to the upset defeat by the Rebels by annihilating the Blues 59-12. It was 45-0 when they sensibly made substitutions, and it marked a return to try-scoring form for the Cantabrians, as they had only managed 34 points combined in the previous 2 matches before that win. The Highlanders scored their 4 tries within the hour against the Blues and managed to rest a few players. The penalty count is a worry and the line-out still has issues, despite Adam Thomson's poaching in that area. Hosea Gear and Ben Smith have carried 130 times for 1265 metres and 98 times for 999 metres respectively. The Highlanders have actually won the last 2 matches between these sides, but are starting to look tired - no surprise when you see the workload they get through in a match. Nasi Manu has 25 more carries than any other player in the competition even after he missed last week. The fresher Crusaders to win by 8 points in Christchurch.
To misquote Oscar Wilde - 'to lose one fly-half may be regarded as a misfortune, to lose two looks like carelessness.' Both the Rebels and Brumbies are running through number 10's like they are going out of fashion. Not many would have predicted the starting pivots would be James Hilgendorf and Zack Holmes at the start of the season. The Rebels had collected back-to-back wins before they were cut apart by the Hurricanes and conceded 9 tries, last week. 20 turnovers and 30 missed tackles make for unpleasant reading and of the starting XV, only 3 players didn't miss a tackle. The Brumbies engine room will have plenty to prove against the Rebels lock pairing that have been deemed superior in the eyes of the Wallaby selectors. The Rebels will no doubt show plenty of spirit but the injuries, issues at scrum and missed tackle problem cannot be ignored. Brumbies to take this one by 12 points!
The Blues season has been so poor that teams now rest players going into matches with them and still expect the try bonus-point...they are effectively now being treated like the Lions. Coach Pat Lam is being criticised when he picks his All Blacks players and when he benches them, and under massive pressure some of his selection decisions have been erratic at best. Individuals have shown fight at times, but when asked to operate as a team - areas such as the restarts and line-outs have looked pretty ordinary. In contrast, the Chiefs look well coached and one of the best balanced sides in 2012. When they up the tempo and start running from depth, there aren't many franchises that can live with them. The round 2 match saw the Chiefs 29-6 up by half-time and I see them gaining the try bonus-point early again this time, even with the changes they have made. Chiefs to prevail by 10 points.
The 'Tahs have now lost 4 in a row and 9 all season. It will be scant consolation to their fans that those losses have come by an average of just 6 points. They may have conceded 3 less tries than the 'Canes, but also more significantly they have scored 20 less tries. The 'Tahs have only outscored opponents after the break in 2 matches and this second-half malaise along with injuries to key players like Drew Mitchell has led to a disappointing season. In recent years they have lost their matches on tour to SA and then bounced back with a home win. History is also on their side in the head to head to record which has seen them win the last 4 meetings. The 'Canes backline is looking electric but against a stronger team those issues become more significant. If you remove results against the bottom 4 sides, then the Waratahs would have 1 win from 9 and the 'Canes 2 from 8 so there isn't much to choose between them. I see the Waratahs taking an early lead but being overtaken in the second half, once again. Hurricanes to sneak this one by 3 points in Wellington on Saturday.
A few weeks ago, it was highlighted that the Sharks needed to start collecting try bonus-points if they wanted to keep up with the conference leaders. At that point they had lost 4 of 6 away games and scored only 2 tries in their previous home matches. 7 tries against the Force and 4 against the Cheetahs put them back in contention but it's last week's performance against the Stormers that has really impressed. Nobody else has managed to score 3 tries against that defence nor go into half-time with such a lead over them. There is a great a chance to keep that winning run going, as they have 5 wins and a draw from their last 6 matches against this week's opposition and beat them 32-20 back in round 3. The Lions' last 6 games have averaged a successful tackle rate of just 82%, missing an average of 22. They have also averaged 20 turnovers in those matches. Lions have lost 11 consecutive matches so it's hardly a surprise to back the in-form Sharks. Sharks by 14.
Just 2 points separate these teams and neither have as much momentum as they would like going into the clash. The Bulls have suffered consecutive losses, and after a 4 match away tour have had to make the long journey home. However, in at least the last 3 seasons, they have gone on to win the following home game after returning from away tours. The Stormers still have not collected a try bonus-point (along with the Lions and Blues) and have suffered an injury crisis in the back-row - both as a result of their playing style. The Stormers are losing 7 less players than the Bulls to international duty and there will be plenty of players looking to prove points to the watching SA management. The match in round 5 saw the Stormers win by 3. Their encounter back in March saw the Bulls concede 8 more penalties and 7 more turnovers than their rivals, but they have home advantage now and are up against a battered Stormers team who are now missing lock Andries Bekker, full-back Joe Pietersen and loosehead Steven Kitshoff. Bulls to take this one by 5 at Loftus Versfeld!