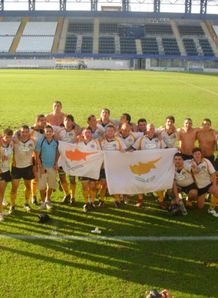 Lower tier rugby typically struggles for exposure - but there is a small island starting to turn heads across Europe.
With thirteen victories in a row under their belt, Cyprus Rugby are sitting pretty at the summit of one of the continent's basement leagues, 2D.
And with 'the derby of all derbies' approaching this weekend against Greece, Planet Rugby caught up with Moufflons tighthead Christo Kasabi.
A win would see Cyprus - already 23 points clear of their neighbours - tighten their grip on a group that includes Bulgaria, Luxembourg and Finland.
Subsequently, thoughts of topping Lithuania's eighteen-game winning run are also surfacing.
Here is what Kasabi had to say:
PR: Only two games to go in the group then Christo - Greece and Finland. A special time?
CK: It has been a special two years and we want to finish the job and make it eight wins from eight by the second week in June. For our small island, it will be a huge achievement. Going into this group, we didn't know what to expect. It has been tough, make no qualms about it. On and off the field every effort has gone in to get us where we are today.
PR: That must have in part solidified camaraderie between the boys, right?
CK: Camaraderie is as strong as always. It's a whole different level compared to guys you play with week in week out at club level. To represent your country is unreal, and it's a feeling you never want to end. It was great getting together again versus Bulgaria after a long break.
PR: What is the unbeaten run now? Are you allowing yourself to eye the world record?
CK: We have gone 13 in a row at the moment. The world record of Lithuania's is in the back of our heads definitely, but we're taking each game as it comes. We don't want to get too ahead of ourselves as we know that with promotion the games will only get tougher.
PR: From looking at the video highlights against Bulgaria, there seems to be more fluidity.
CK: Well, the majority of the backline have now played consistently together over two years. The first game - versus Greece - they were honest enough to know they were not firing on all cylinders. What you saw against Bulgaria is what they can do with ball in hand. As forwards it makes our life easier knowing that if we do our job, the glory boys will do theirs. That comes with added pressure on us to perform otherwise our back line will be wasted.
PR: Looking ahead to Saturday, what do you know about your opponents?
CK: Greece do have some talented players and I think their recent defeat to Luxembourg will have no bearings on this game. We all know the financial restraints with lower tier rugby, so I am sure all their 'star' players will be crossing the whitewash come May 26 in Paphos. They will not be taken lightly. They have a pool of guys that reaches out to Australia, South Africa, France and the UK as well as a progressive league system. This is the derby of all derbies. We beat them last time in Athens, so they will be out to settle a few scores I reckon.
PR: Lower tier teams - and even some of the recent Rugby World Cup nations - have real financial issues. Is there still the need for players to pay their own air fares at Cyprus?
CK: We have to sort our own flights to get to the match location, which we get reimbursed, less our 50 Euros contribution to the federation. We also have had to pay for our own off-field kit this season, so when we come together we actually look like a team and not a bunch of misfits. Unfortunately, with limited funds and a lack of government backing, this is what we as players have to do to support the future of the sport on island. We are working hard to gain sponsorship but still haven't caught anything big just yet. We have been trying through the social media world so please follow @Cyprus_Rugby on Twitter.
PR: Okay great, thanks Christo and good luck.
CK: Thank you. Ela Kypros!