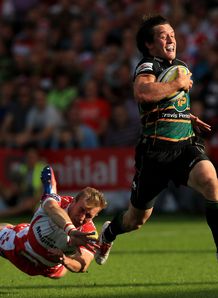 We have come to that time of the week when Planet Rugby brings you all an offering of a stand-out video we think you will enjoy!
Our recent choices have seen us relive the 2013 Heineken Cup Final, compare NFL against Rugby, remember the "Caveman," some Quade Cooper magic, pure pace from the fastest man in rugby and an incredible comeback in South Africa's Varsity Cup Final.
Now, ahead of this weekend's Aviva Premiership Final, we look back at some of the best tries scored in England this season.
Enjoy!
Other recent videos:
2013 Heineken Cup Final
NFL v Rugby
Chabal Tribute
Quade's 100
Pure pace
Varsity Cup Final
Treble in Paris
Red day in Cardiff
Back with a bang
Rugby poem
Super Rugby
Calcutta Cup
Best of O'Brien
Best of Flood
Game of 2013
Rugby with Real Madrid
Grenoble's drone
Cooper magic
Vintage Clermont
Jason Robinson
Soccer v Rugby
Classic Carter
Ireland nilled in New Zealand
Tribute to Kieran Read