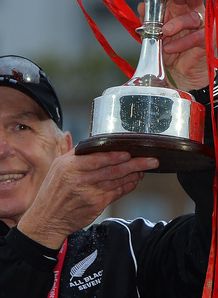 Related links
Teams
Also see
New Zealand have put one hand on the IRB World Sevens Series title after winning the Glasgow Sevens, beating Canada in the Cup Final.
The 54-7 victory over the Canadians gave the All Blacks Sevens 22 Series points, which leaves them 19 ahead of second-placed South Africa.
Canada meanwhile move up one position to sixth, jumping above Samoa, with the 2013/14 World Series concluding next weekend at Twickenham.
This was Canada's first ever Series Cup Final.
IRB World Sevens Series Standings
1) New Zealand 158
2) South Africa 139
3) Fiji 129
4) England 117
5) Australia 97
6) Canada 82
7) Kenya 72
8) Samoa 69
9) Argentina 68
10) Scotland 60
Results
New Zealand 54-7 Canada - Final Cup
Fiji 17-10 Scotland - Third Place
England 26-5 Kenya - Final Plate
Argentina 14-20 France - Final Bowl
Japan 12-29 Wales - Final Shield
New Zealand 19-14 Fiji - SF Cup
Scotland 7-10 Canada - SF Cup
Australia 7-21 England - SF Plate
South Africa 7-14 Kenya - SF Plate
Samoa 12-29 Argentina - SF Bowl
Spain 0-24 France - SF Bowl
United States 14-19 Japan - SF Shield
Portugal 7-38 Wales - SF Shield
New Zealand 19-7 Australia - QF Cup
Fiji 14-12 England - QF Cup
Scotland 12-7 South Africa - QF Cup
Canada 14-5 Kenya - QF Cup
France 21-7 Wales - QF Bowl
Spain 24-14 Portugal - QF Bowl
Argentina 35-7 Japan - QF Bowl
Samoa 31-12 United States - QF Bowl