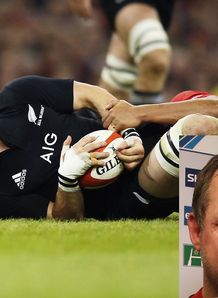 In a new series of columns, Planet Rugby's James While catches up with a group former international stars to get their views on the end-of-year Tests: this week he speaks to the legendary former Saracens, England and British Lions flanker, one of the true greats of the modern era, Richard Hill.
With another thrilling round of November Tests concluded, the form book seems, if not torn up, rather dog-eared around the edges. The one constant, however, is the perennial brilliance of the World Cup holders New Zealand, who disposed of a hearty Welsh performance in true style.
Whilst Wales started well, demonstrating their trademark hwyl in the opening exchanges, in the final analysis they were simply out-gunned by a side whose handling seemed almost telepathic at times.
"It's obvious to all that New Zealand are, by some distance, the best side in the world," explained Hill.
"Their confidence is huge, and has grown since they won the World Cup. If you look at where they are, they know their own game inside out. They are tweaking and fine-tuning an established game-plan, whilst other sides are building and forming a style of rugby. They are far more developed in their tactical thinking."
"If you look back a year, Wales came within touching distance of a World Cup final at the very least. It's a real conundrum. They have quality players, yet there seems to be a lack of confidence. There has been much talk of the restrictions placed on players playing in France which distracts, but it's baffling just how Wales' performances have dropped off."
At Cardiff last Saturday, New Zealand's finishing was at times, devastating. Their awareness of when to attack, when to defend and when to simply absorb pressure was outstanding. Hill puts this down to an intuitive understanding of each others' roles...
"The All Blacks all understand clearly their role in the team defensive system. Where possible they commit to heavy collisions with at least two tacklers. They are outstanding at reading the breakdown situation. Richie McCaw's presence here is absolutely key," explained the big ex-England flanker.
"Even in attack, sides will throw in two and three men to counter McCaw's disruptive presence at the breakdown. If you watch NZ, as soon as they know the ball is lost at the breakdown, they'll step a couple of feet away from the breakdown, behind the offside line to defend. If there's a sniff of a turnover, immediately they realize, and commit to counter attack with huge physicality and numbers. At times Wales had five men in a ruck, whereas the All Blacks had two. This allows them to be confident they will have extra defensive numbers in the next breakdown and increase their chances to steal at next one.
"NZ play an intelligent game plan, with kicking an important component of it to apply pressure and force errors. But when the opportunity presents itself, with poor kicking or kick chasing, they will counter-attack. They have big, agile ball players confident in their handling skills and ability to attack from any part of the pitch."
With England putting in a rousing display against a big, tough South African side - but coming short in the final analysis - Hill, although disappointed that his national side didn't record a win, saw enough to retain hope that Lancaster and his cohorts are moving in the right direction.
"There was huge physical work and effort" said Hill.
"It's clear England are trying to broaden their game and play with higher tempo.
"This is an evolutionary process. When I was first capped in 1997, we played a far more conservative game than in later years, around the 99,00,01 periods. However, after losing a couple of games we perhaps should have won, we realised that a blend of rugby styles was the best route forward; using the brilliance of Jason Robinson and Iain Balshaw to attack from deep when the opportunity was there, and resorting to a more conservative approach when conditions and opposition dictated.
"England will find a natural style to suit the players available, but it takes time and is a building process.
"Looking back on Saturday, I'm not too concerned regarding the Robshaw goal kicking incident. Yes, a few factors were playing on his mind, and maybe the decision was the consequence of what happened seven days before. England had not had the line-out success of the previous two weeks, so a kick to touch may not have been wise. I may have been inclined to scrum or tap, but that is history now and we must move on.
"We matched them on both the tackle and gain line, we gained 58 per cent of possession and, on another day, may have emerged on the right side of the scorecard.
"Whilst I'm loathe to single out individuals, I felt Joe Launchbury showed great promise; prepared to back his athletic ability and do the grunt work too. Corbisiero did well considering the paucity of rugby he's had, and Ben Morgan really made a big impression; dynamic, powerful and prepared to challenge.
"By saying all this, if the Twickenham crowd really get behind the team, it could be a very special day on Saturday against New Zealand. A win would require huge effort, but it's not impossible, especially if Carter and a couple of others fail to make the fitness tests".
Elsewhere, Ireland turned around a couple of disappointing performances and beat the doughty Argentineans by a big margin, with young fly-half Jonny Sexton putting himself in pole position for a B&I Lions Test berth.
"Argentina have improved hugely and are playing a more rounded game. However, this was an outstanding performance from Ireland, matching the traditional Argentinean power. France have emerged as the best side of the NH in this series, and are building a very powerful side," said Hill.
In Rome, a Masi- inspired Italy almost pulled off the win of the year, pushing Australia right down to the wire.
"If you're going to beat the Wallabies, the forward battle is crucial," commented Hill.
"Italy have a handful of players that can compete with the best in the world and they built their effort around them; the Parisses, the Castrogiovanni's and the Masi's.
"If you don't stick to the basics, concentrate up front, then they will make life very hard as they've proven time and time again.
"This will be a huge shot in the arm for them, and they'll be a tough proposition in the forthcoming Six Nations"
Up in Scotland, after more bitter disappointment, the men in blue suffered the ignominy of losing to a fired up Tonga. To add to their woes, the beleaguered Andy Robinson - a passionate and gifted technical coach - finally chose to walk. Hill cites Robinson as a big influence in his career.
"It's always sad when someone you know and respect as a coach is forced to quit. Andy mentored me as a youngster, and I'm fully aware of what he can offer. It's typical that he will hold up his hand and shoulder the blame," he said.
"Sometimes, however good a coach is, a new voice is needed on the training park when things are not working. But Andy is technically strong and he'll be back in rugby very soon.
"In the meantime, Scotland have a strong core of players they will look to build a team around. This maybe a watershed for them and I am sure they'll turn their fortunes around soon."
So that's it for Expert Witness this week. We thank Richard for taking time out from his Saracens mentoring and training duties and Expert Witness will return next week with the comments of former Leicester Tigers and England number eight, Dean Richards.