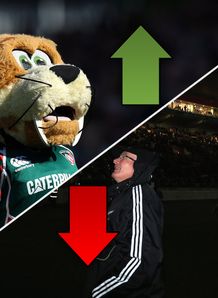 It is time for Planet Rugby's weekly wrap of who has their name in lights right now...and who is making the headlines for the wrong reasons...
They're smokin'!
Jaco Taute: Before his shoulder injury, Taute was tauted as being extremely close to making the Springbok squad following an impressive Super Rugby season. However, the dynamic full-back's international hopes were postponed when he was ruled out for several weeks. He's now back in Golden Lions colours and has picked up from where he left off, last week carving up the Blue Bulls' defence with ease and was deserving of his breakaway try. We expect the former Monument High schoolboy to be a Springbok in November.
Aviva Premiership: What an entertaining opening it has been. Firm, dry pitches, fresh players and teams hoping to get a strong start out of the blocks have led to the masses being thrilled in England, with Quins, Leicester, Sarries and Saints occupying the top four after two rounds. One wonders whether that is a sign of things to come...Gloucester, Exeter and Sale might have something to say about that, although the latter is now 0 from 2.
Adam Ashley-Cooper: Lwazi Mvovo did his utmost to draw AAC and then give to Jean de Villiers on the touchline on Saturday, but he did not count on the versatile Wallaby flooring them both. That two-for-one tackle - viewed high by some - proved critical in where the match points ended up on the day. Speaking of Australia's victory, we feel Sitaleki Timani, the front-row, Berrick Barnes and debutant Dom Shipperley deserve separate mentions.
An unbeaten Toulon and Biarritz: Bernard Laporte's expensively assembled "army" hold a one-point lead on the resurgent Basques at the top. After six years of writing big cheques, Toulon president Mourad Boudjellal is seeing rewards. Last Saturday RCT backed up three wins on the road with a bonus-point victory in their first home game. Would you expect any less when your BENCH features names like Jenkins, Hayman, Shaw, Armitage, Bastareaud and Michalak? Meanwhile, over on the Atlantic coast, BO are fast forgetting the prolonged nightmare that was last season, which might just save Serge Blanco from health issues.
---
Get these guys a cup of warm soup!
Will Genia: Poor Rod Kafer. The former Wallaby centre - referring to Genia's injury - asked the captain whether the team's performance papered over his own personal fate in Perth to which the scrum-half construed as being a jibe at his personal performance. Genia clearly was not happy and made his feelings known before Kafer smoothed the situation by explaining there was no malice intended. If you haven't seen it, here is the video.
Blackout at Westpac Stadium: A power outage caused by horrendous weather conditions plunged the 'Cake Tin' into darkness during Saturday's Rugby Championship clash, causing an embarrassing delay. The stadium was blacked out just when the teams were preparing to take the field for the second half and remained that way for around 17 minutes. The inclement weather, stubborn opponents and failing technology almost conspired to end the All Blacks' 12-Test winning streak before the hosts left it late to eventually win 21-5.
Mont-de-Marsan: The gap between the 'haves' and the 'have nots' in France is growing ever larger - as illustrated by the fortunes (excuse the pun) of the boys in back and yellow from Stade Montois, who have a big, fat 'zero' next to their name at the bottom Top 14 table. With a points difference of -99 after four games, a long season lies ahead. Clermont are next up.
Clueless Kiwi commentators: Is it asking too much to expect professional commentators to know what the names of the players in a Test match they are calling? Bill McLaren used to go to training sessions to familiarise himself with players he would be commentating on the following weekend. No way would you hear the 'Voice of Rugby' blurt out "great tackle by...er...who was that...um...it's number 13...er...Bosch!" FYI guys, Marcelo Bosch has been playing top-level professional rugby since 2003 and has been an international since 2007.