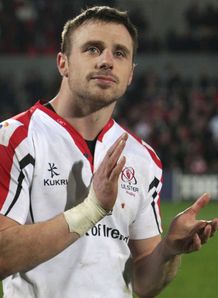 Related links
Teams
Ulster and Ireland winger Tommy Bowe has conceded that the time was right for Mark Anscombe to leave the Irish province.
Anscombe was sacked on Monday by Ulster following the departure of director of rugby David Humphreys earlier this month.
Adding that he had enjoyed working under the New Zealander over the last two years, Bowe conceded that the way Anscombe had departed was 'unfortunate'. His removal has reportedly cost Ulster in the region of €125,000.
"Changes maybe needed to be made, and it's great that it's happened at the start of the season so we can get on with it now and look forward to an exciting season ahead," Bowe told the Belfast Telegraph.
"Ulster have definitely gone forward over the last couple of years - but we want to be winning trophies, and as a player I want to be part of a winning team.
"I enjoyed working under Mark.
"He had a no-nonsense attitude to things, which I think is very good. A guy who comes in and tells the players straight what he thinks is what is needed in the professional game.
"Over the last couple of years he's been a breath of fresh air. It is unfortunate, I was looking forward to working with him again this year but I think it's just the way things have panned out."
Bowe also discussed the prior departure of Humphreys, with the former Ireland fly-half joining Gloucester as director of rugby.
"David leaving was a shock to everyone," admitted Bowe.
"He had transformed the team over the last few years and he had been a massive part of Ulster rugby for over 20 years.
"It's a shock that he's leaving but there's nothing you can do."