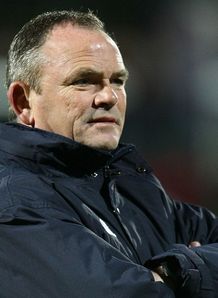 Related links
Teams
Ulster head coach Mark Anscombe insists the club are looking at long-term development as they target silverware.
2012-2013 saw Ulster finish top of the RaboDirect Pro12 table and reach the quarter-finals of the Heineken Cup, but they were left without any trophies after being knocked out by Saracens in Europe and then being beaten by Leinster in the Pro12 Final.
Anscombe believes that Ulster's approach in the past few seasons has been focused too much on "short-term fixes", with the objectives now focused on developing the squad long-term.
"In some ways last year I was pretty happy. We had 23 wins and only seven losses," said Anscombe to the Belfast Telegraph.
"We qualified first in our pool in the Heineken Cup, we qualified first in the Rabo and the last time Ulster won that championship (2006) was under that format.
"We won the right to a home final but couldn't stage it, so we went to the toughest team in the league and played them at their home, which didn't help.
"Last year we maybe talked too much about silverware. This season, I think, we've got to be a bit more pragmatic about what we need to achieve. Because we did well - and have done well over the past couple of years - expectations rise. That's life and you've got to take that and accept what the responsibility is.
"But you're not going to maintain consistency and be a top performer if you look at short fixes. You've got to be looking at the bigger picture of development, building the depth of your squad and their knowledge and managing expectations within the group.
"At one stage last year we had 22 guys out injured or unavailable, so we used 48 players. To have achieved what we did with the number of injuries we had is a credit to the people who were here. We achieved a lot and we shouldn't lose sight of that."
Anscombe also drew attention to the foreign player policy placed on the Irish provinces, highlighted the unevenness in the playing field when measuring Ulster against sides such as Toulon.
"The fact is that in Ireland we're only allowed five overseas players and one of them is a 'project', so you've got to survive on the depth you can call on," added Anscombe.
"We've got some good young kids coming through - the Stuart Oldings, the Chris Farrells, the Paddy Jacksons, the Iain Hendersons, the Craig Gilroys and now Kyle McCall's training well - but we've got to keep maintaining that and growing it.
"I've just seen a website about the top 10 earners in rugby in Europe and about five of them are from the same club (Toulon). Now we're expected to beat those guys and so we should believe we can do that, but the thing you've got to realise is that the playing field isn't always the same for everybody.
"I'm not saying that we shouldn't expect not to be able to do good things, but you have to keep it in perspective."