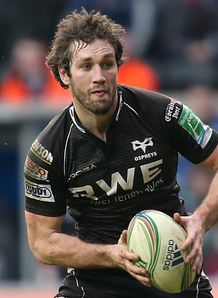 Related links
Teams
The Ospreys have been handed a boost ahead of the campaign run-in after Andrew Bishop was cleared to return to action after back surgery.
Bishop, who's been out for four months because of the injury, can't wait to get back into the region's jersey as they push for the PRO12 play-offs.
"I'm pretty excited about coming back and wearing the jersey again soon," Bishop told the Ospreys' official website with four games remaining.
"We are still looking to push for a top four slot so there's everything still to play for. We want to get to the semi-final and then anything can happen. If I can help, if I can support the push in anyway between now and the end of the season I will.
He added: "It's been pretty frustrating, that's fair to say. Doing the same thing again after doing it last year then getting back to full fitness is a bit of a disaster. It was disappointing, but I realise I've been pretty fortunate throughout my career injury wise so I've just had to take it, knuckle down, and hopefully this is the end of it.
"I haven't had much experience of being stuck on the sidelines so it gives you a different perspective on things. Watching training from the touchline, watching the matches as a spectator, it gives you a chance to weigh things up and recognise what's important, what your goals should be when you come back.
"It's been good to look at things differently but the reality for a professional sportsman is that you want to be playing games. That's the next challenge I've got to face as it's going to be very difficult to get back into the team. Jonathan Spratt and Ashley Beck have been playing really well, even Dirko at the weekend has shown that he can be a very good centre. There's competition for places in there and that's good."